I tried to take a lot of pictures before I left, so I stood by the escalator and stopped people who were stepping off of it. Even finally took a picture of ManChii! And I finally saw Larva and Miyu!! Go Vampire Princess Miyu!! And btw, can you all believe I took all of these photos and videos all by/from my cellphone? Awesome huh? *hugs her cell phone*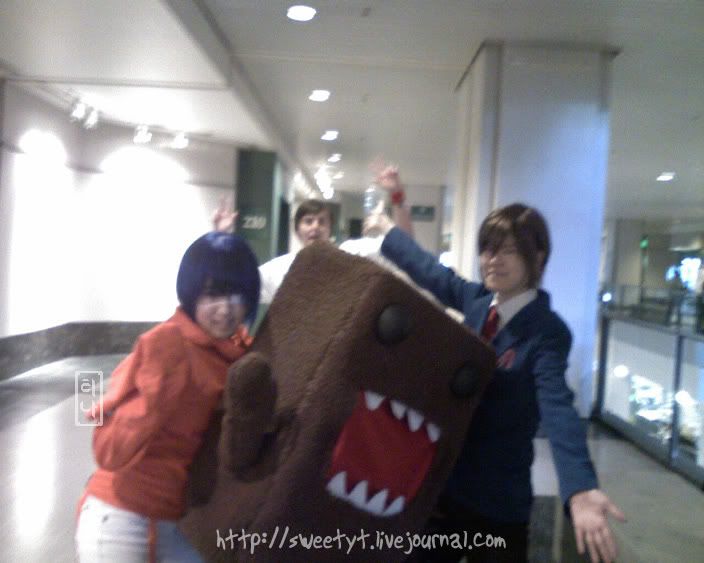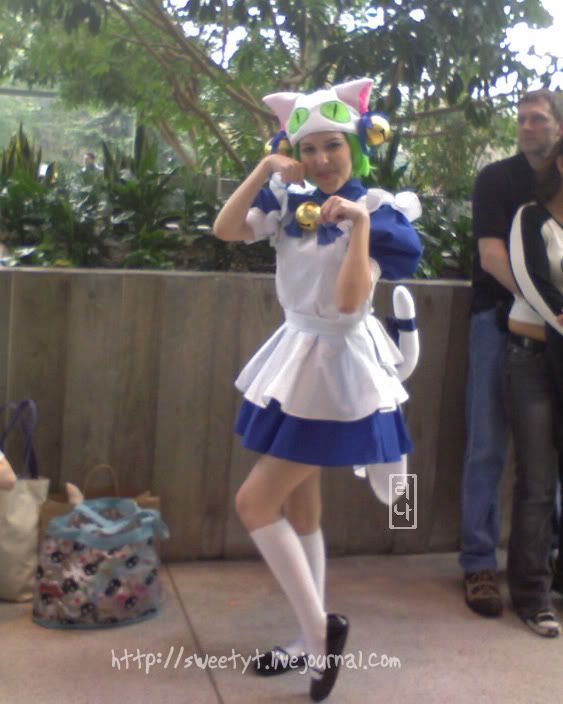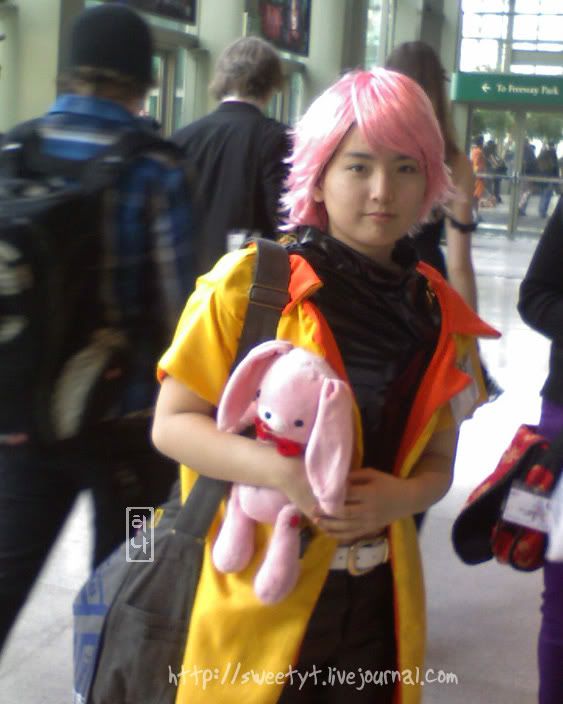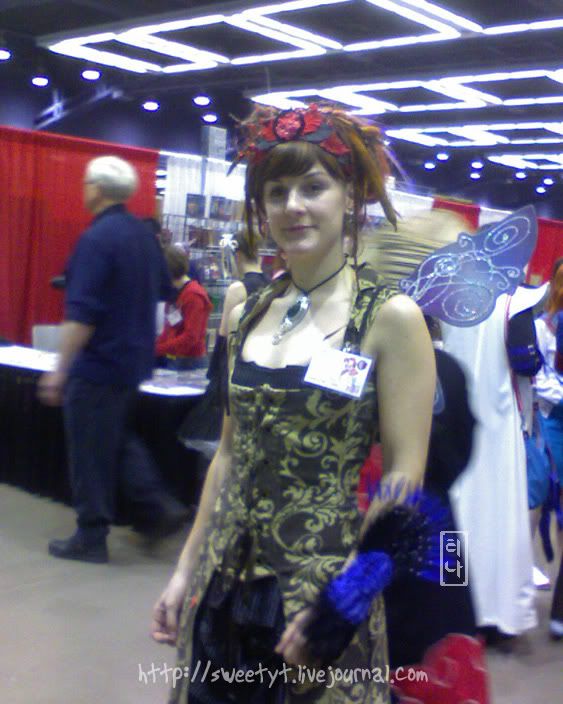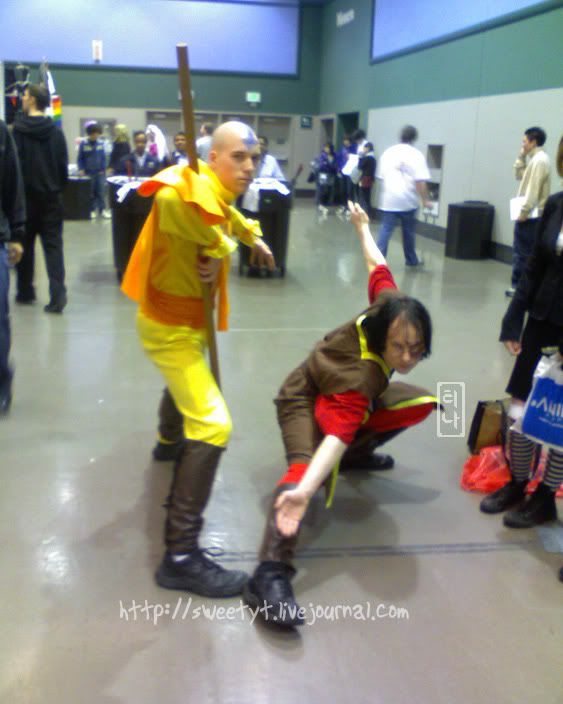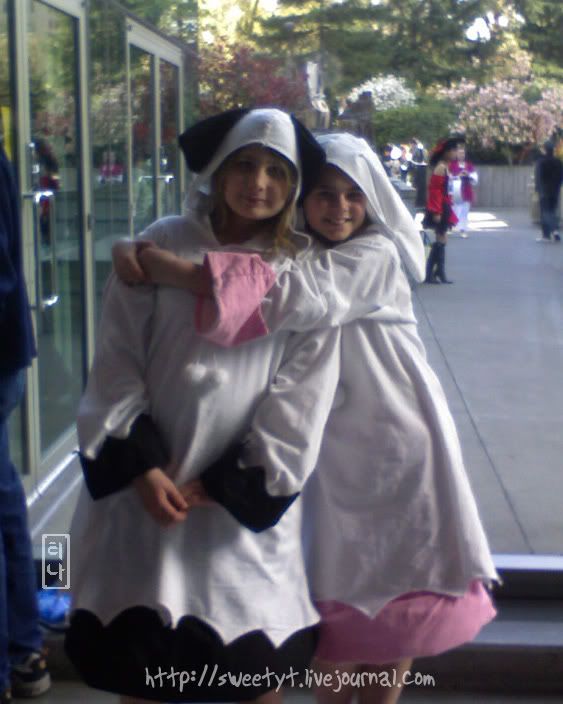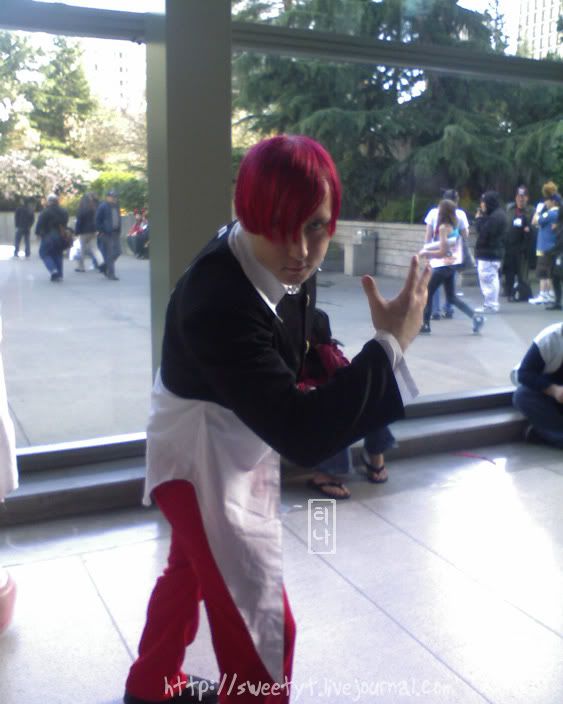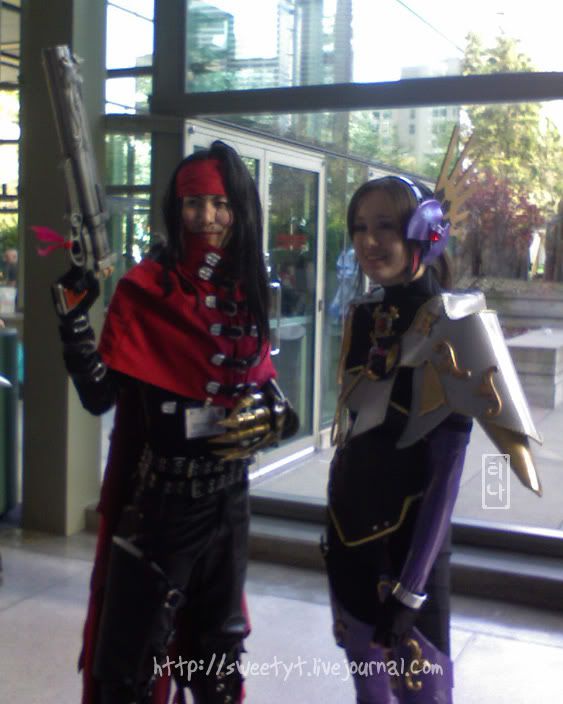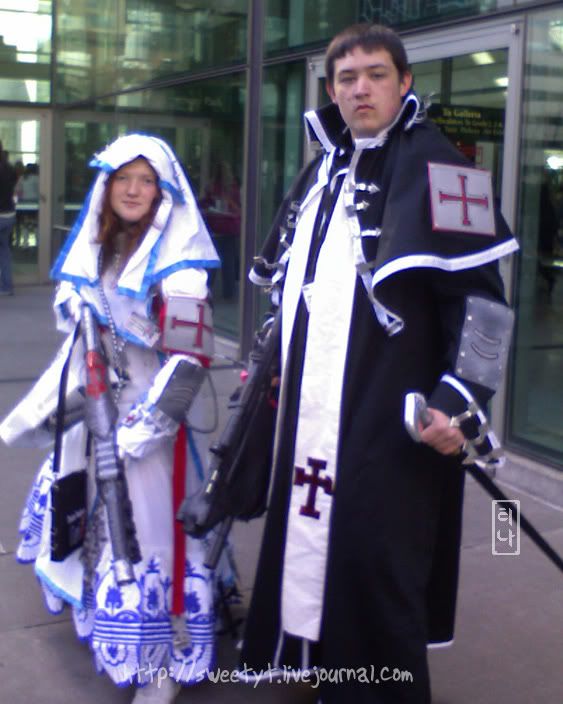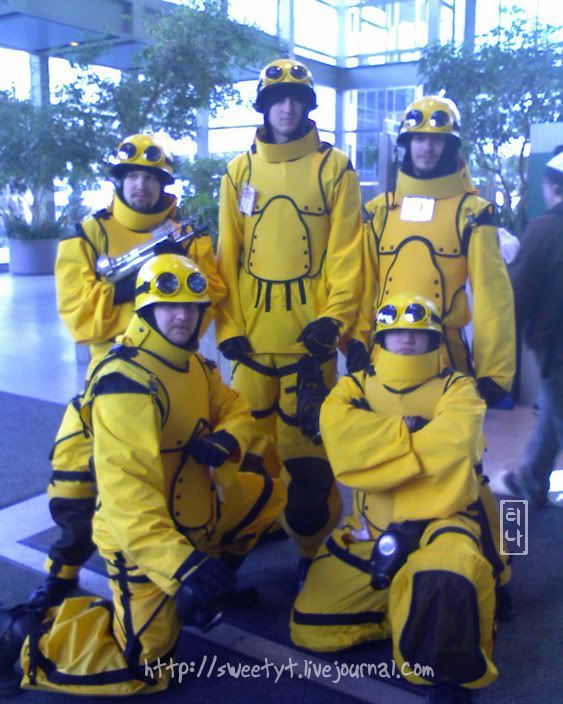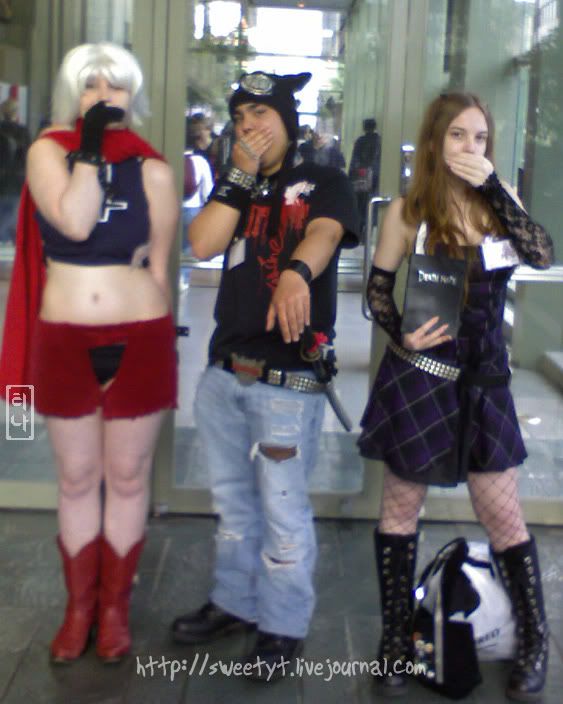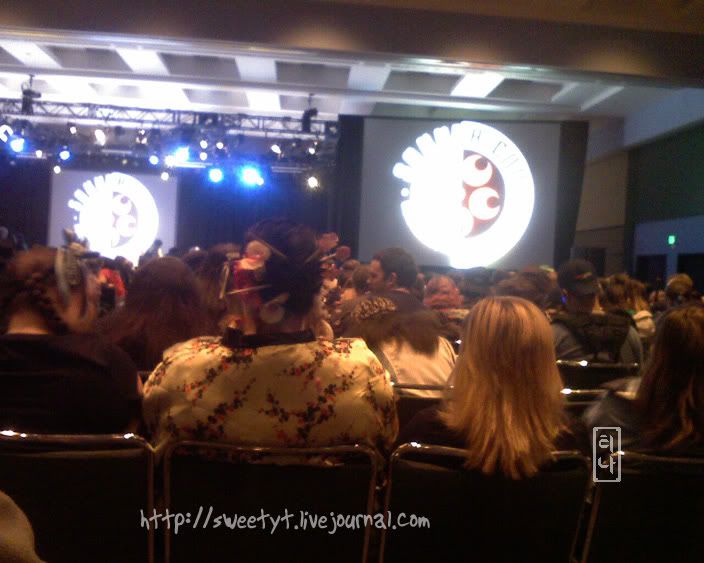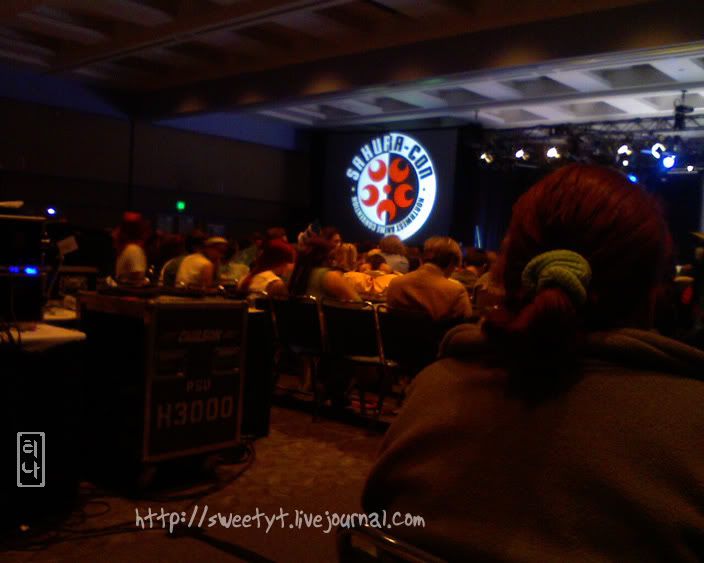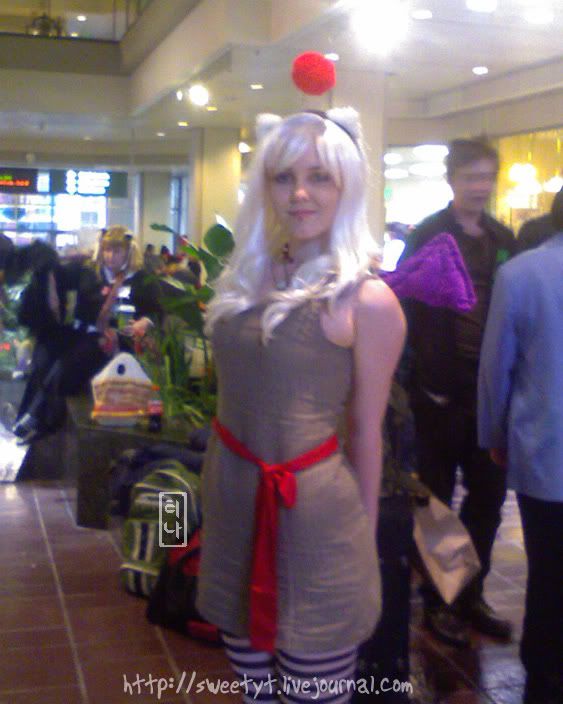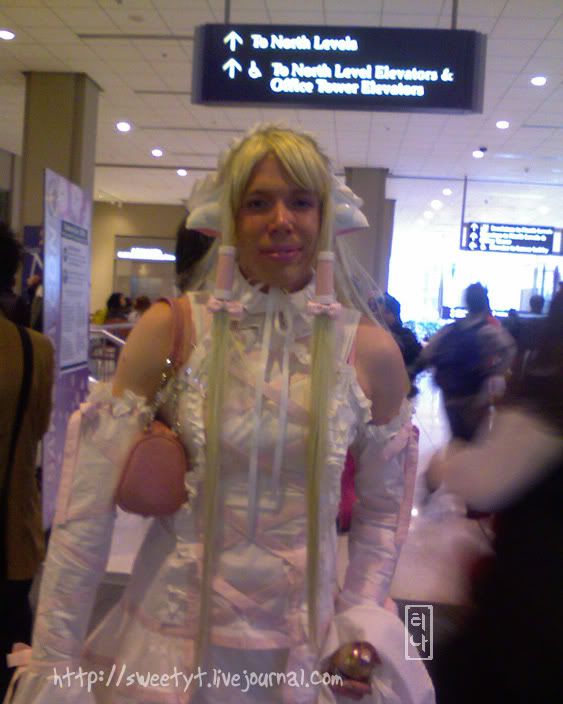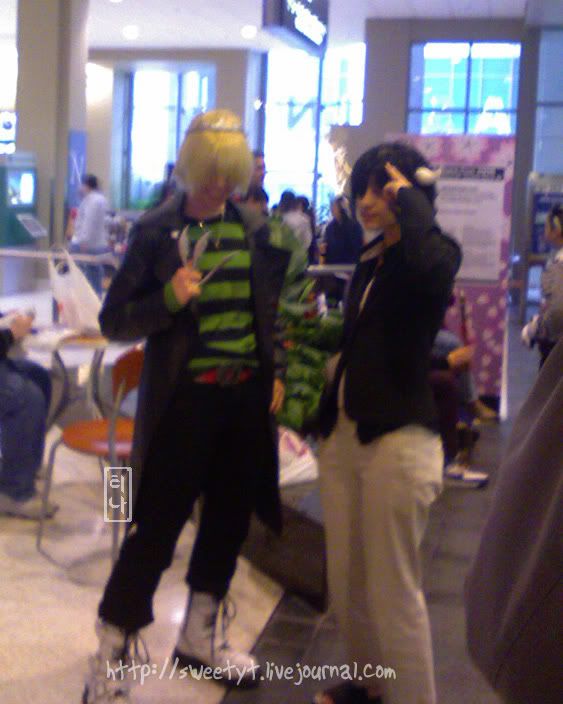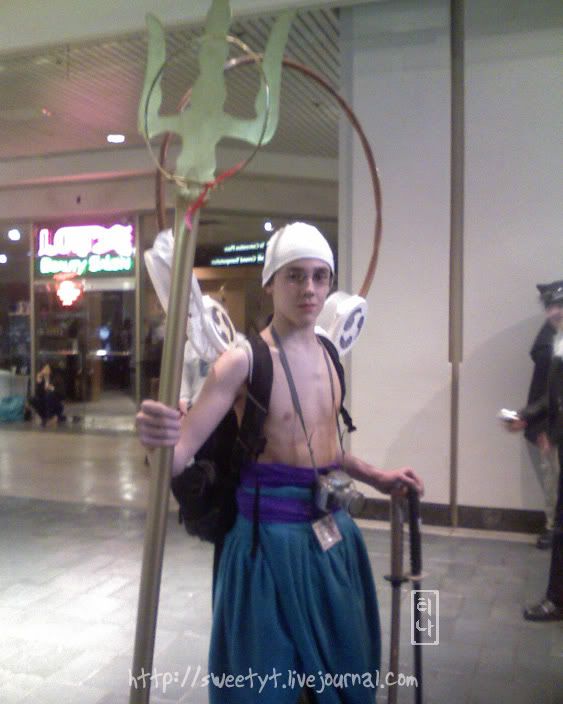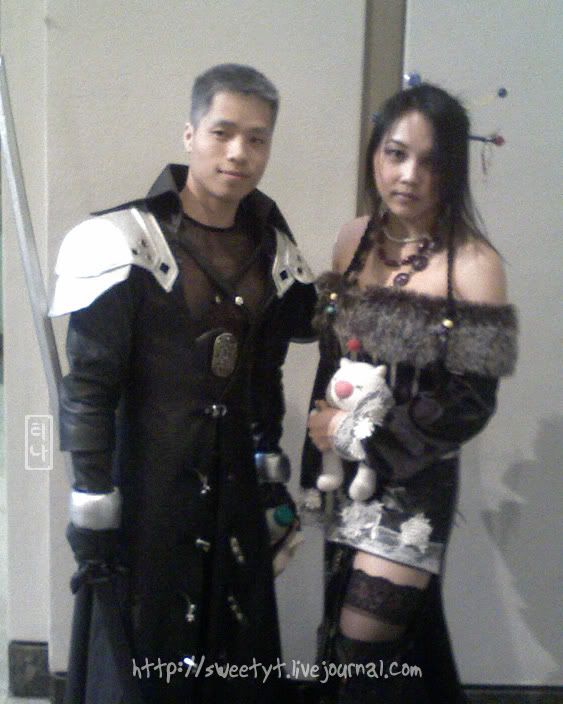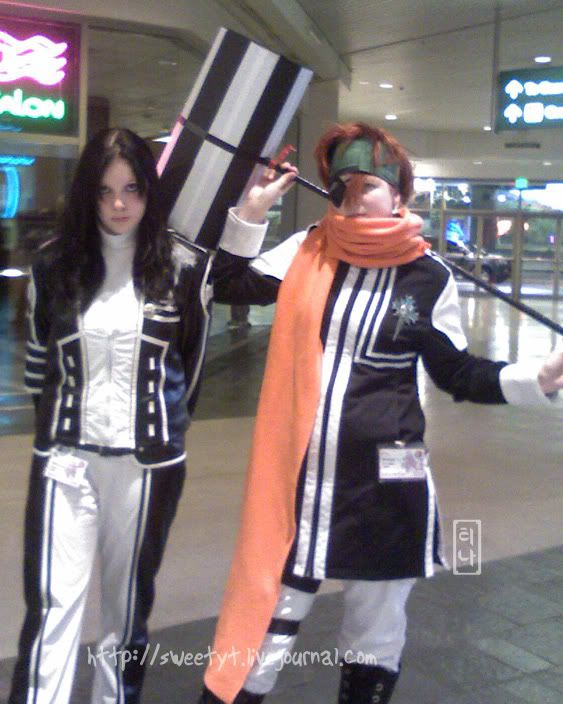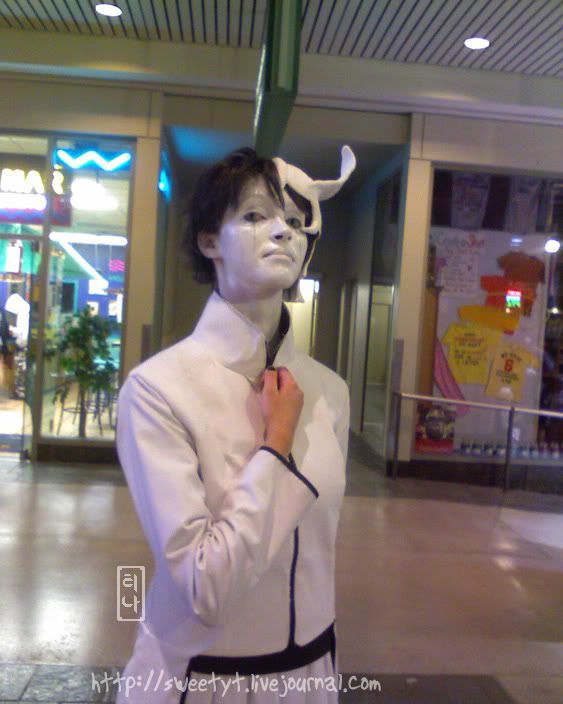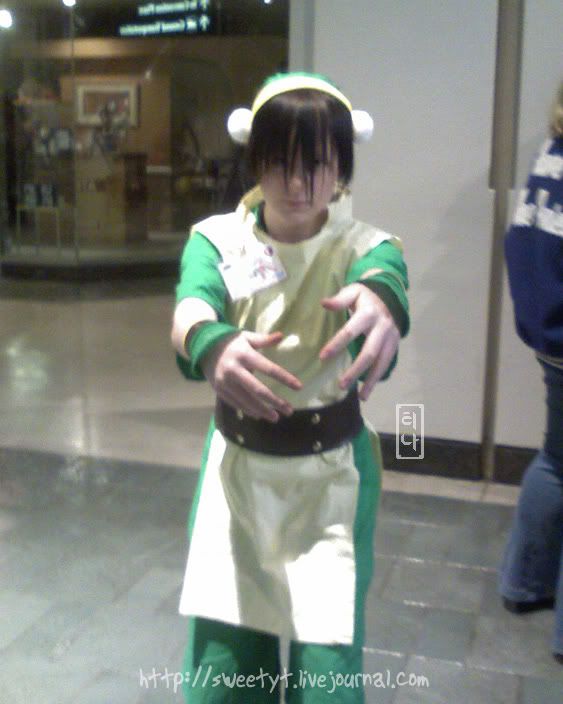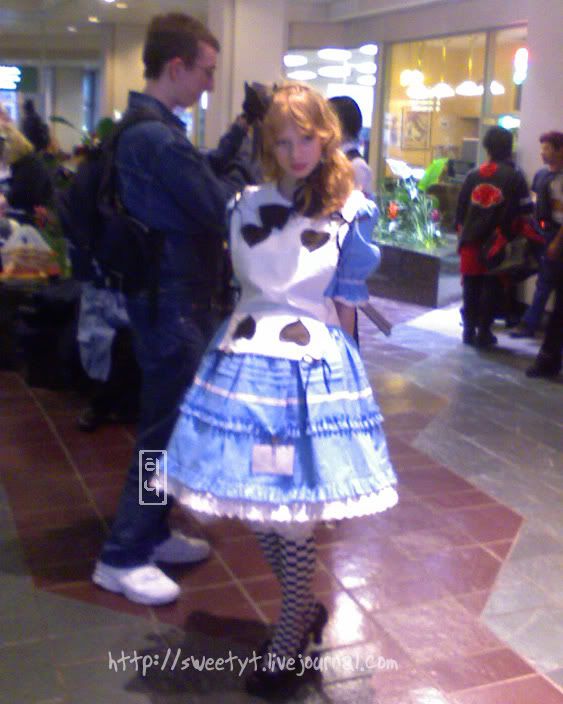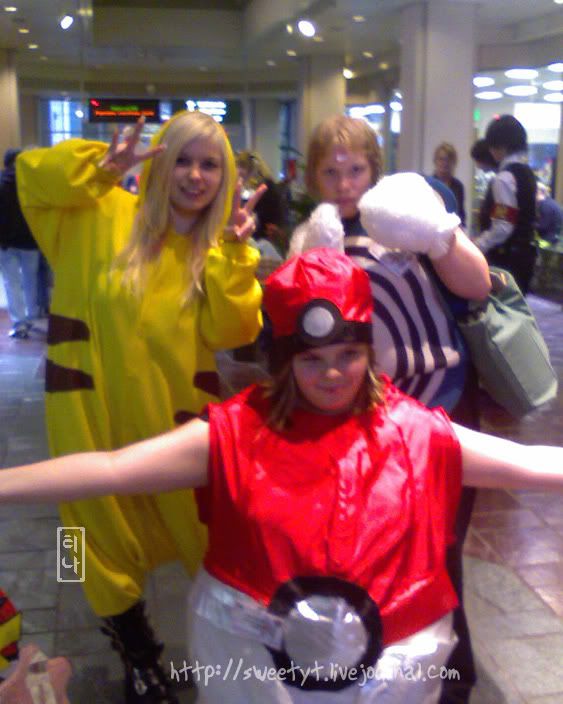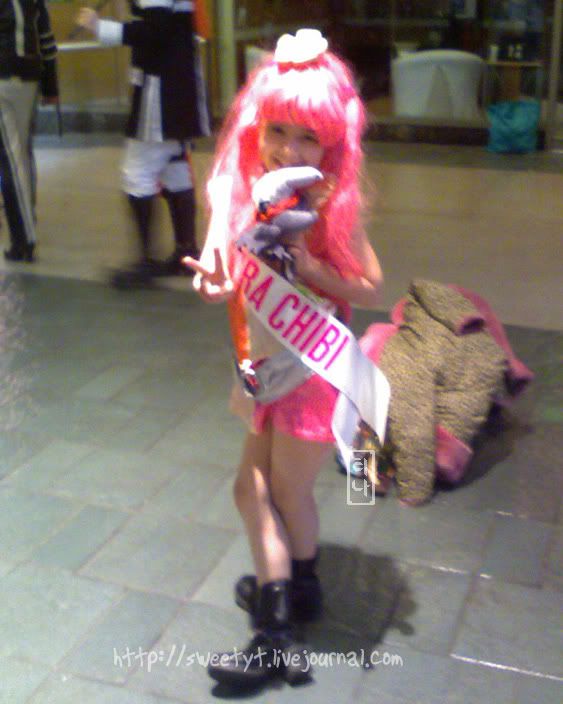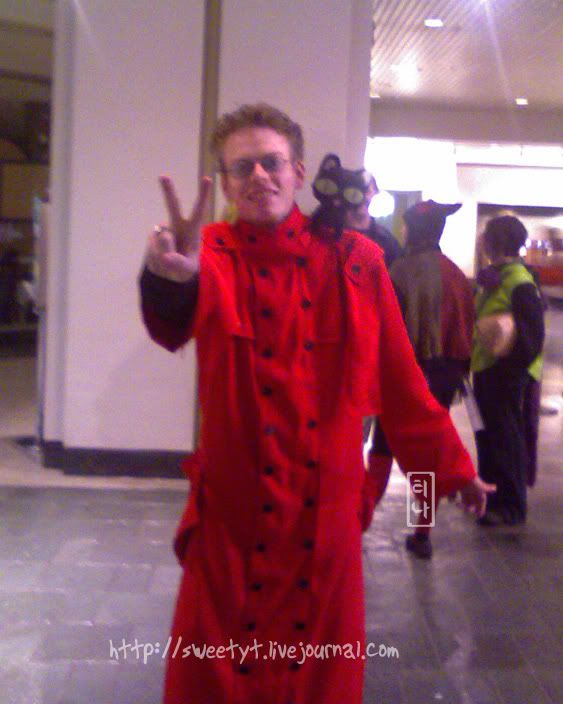 Videos:
I took a few videos when I was walkin around and when I saw my friend Hector playing his sax and I recorded that. Then I recorded parts of the closing cerimony. Hope you all enjoy~!

vid01 // vid02vid03 // vid04vid05 // vid06 // vid07 // vid08 // vid09 // vid10

navigation: day one // day two // day three
Sadly the Sakura con is over as of today (march 30, 2008). I had a blast! Got to meet tons of people, listen to music the whole time I was there, listen to tons of people sing, and fiddle with a computer the whole time. I call it a WIN! lol
Current Mood:

sleepy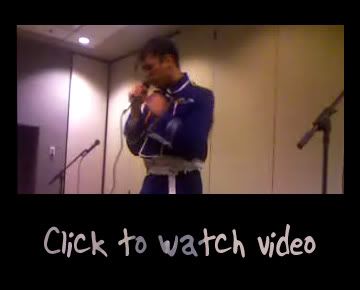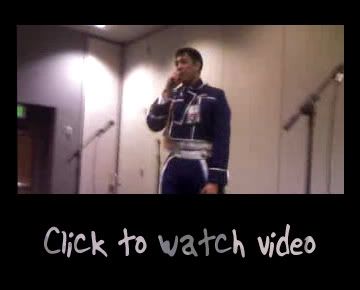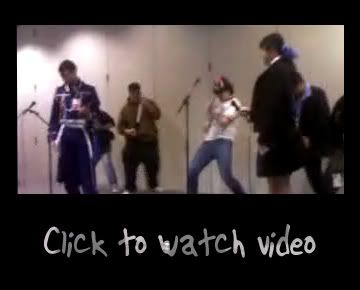 Staff having fun: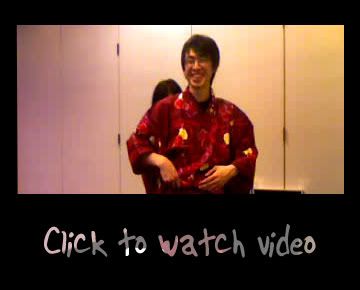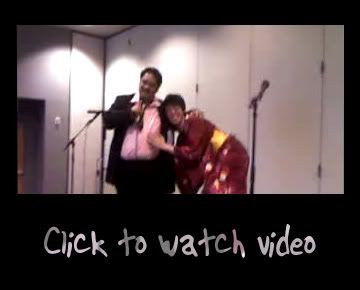 More con vids from today: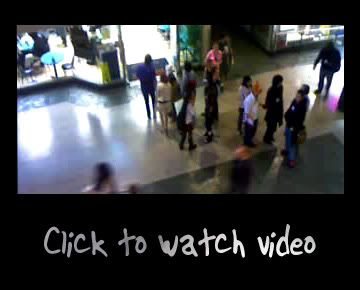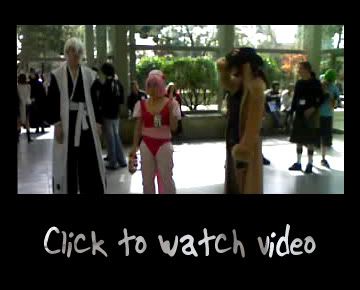 I was in the karaoke room from 12:50pm til 8:50pm!!!!! Didn't walk around or take as much pics as I did yesterday but I came baring HILARIOUS videos! Hope that makes up for my lack of pics. I saw a lot of people cosplaying but not as much as yesterday, and the ones I saw today were of the same characters and I already took pictures of those characers yesterday so I didn't.








Now on to the photos: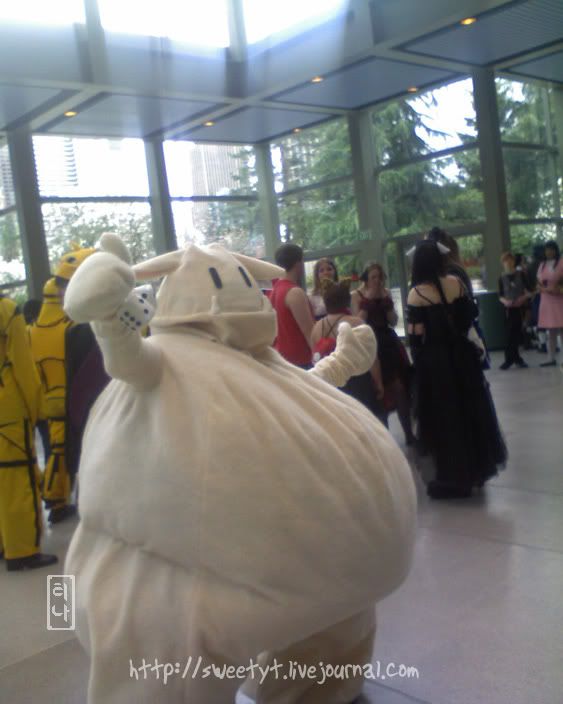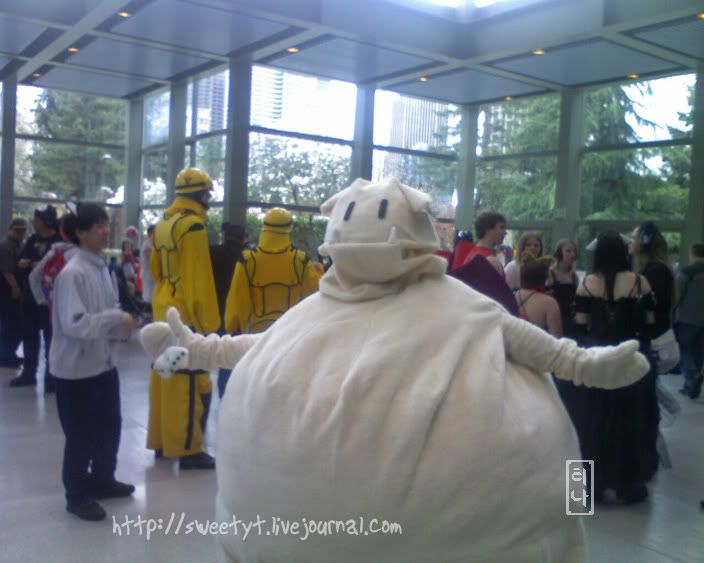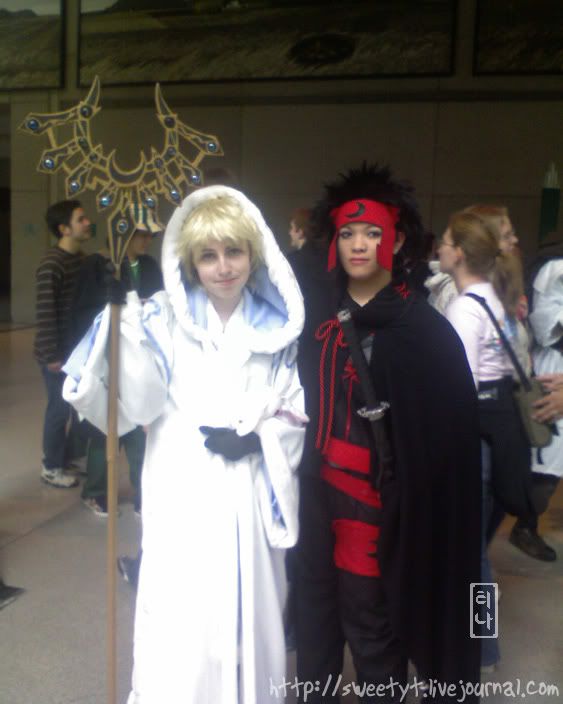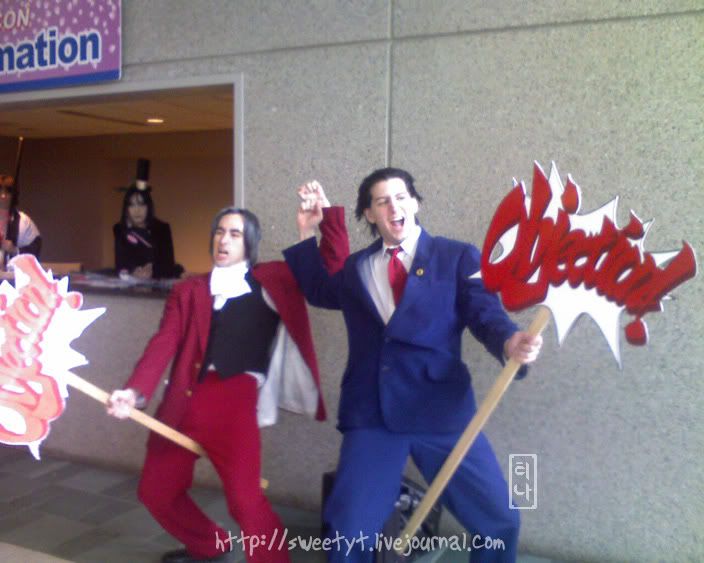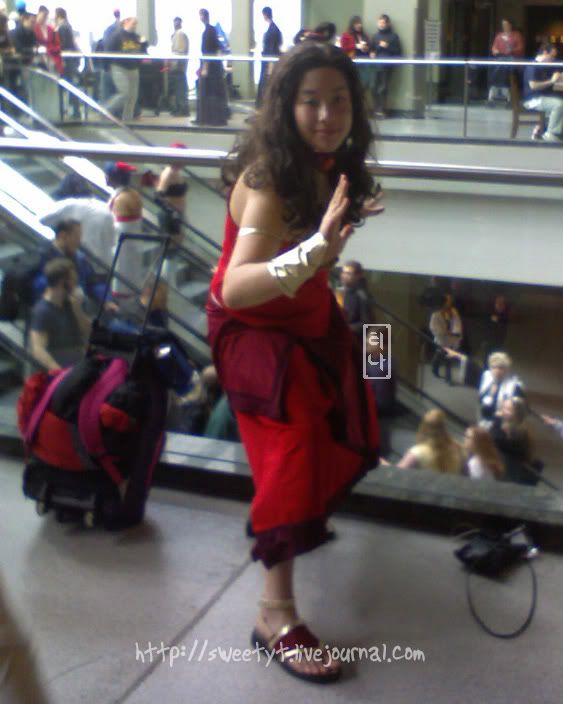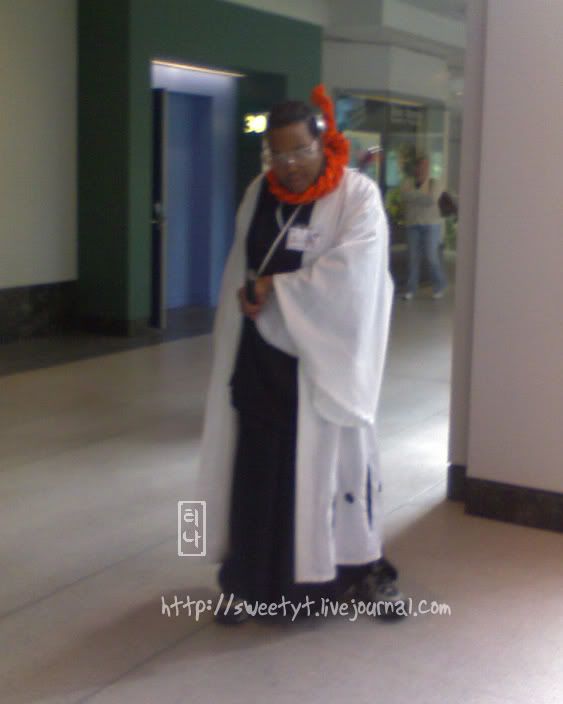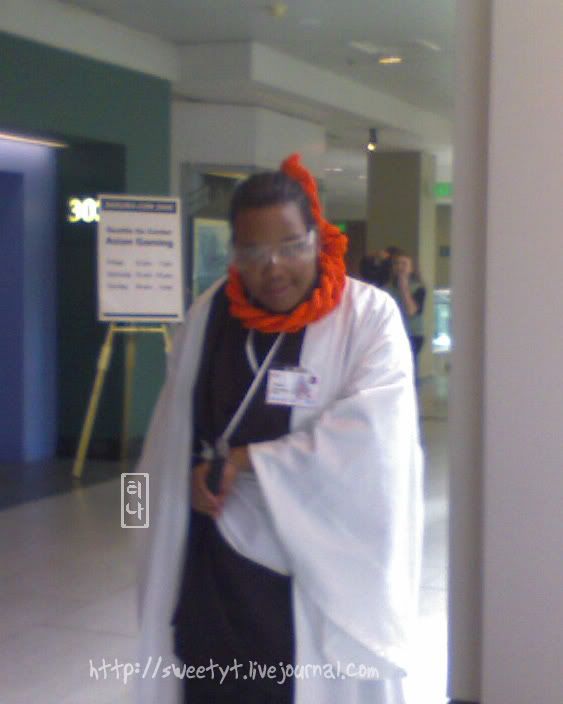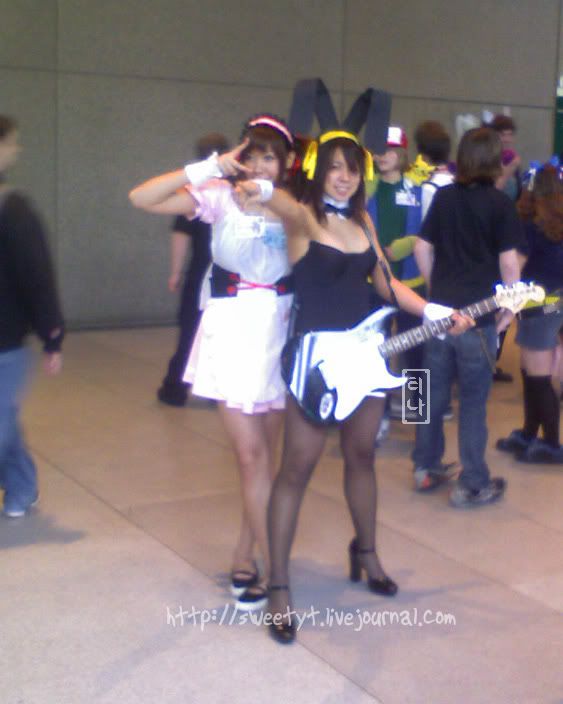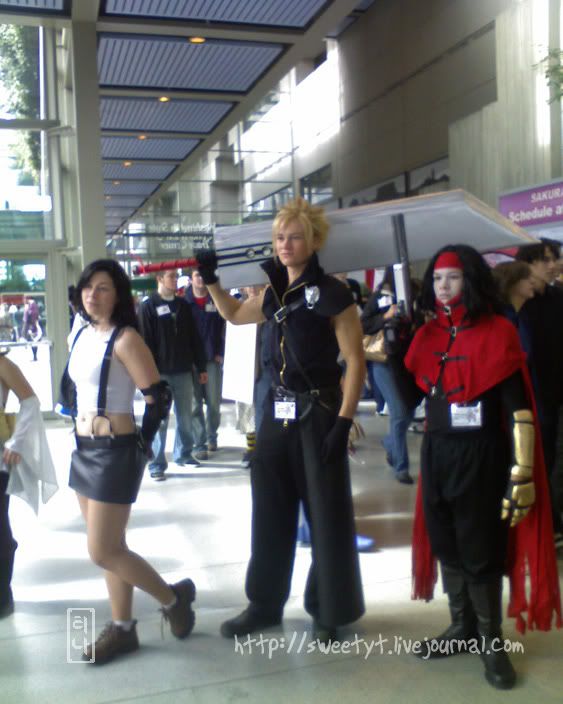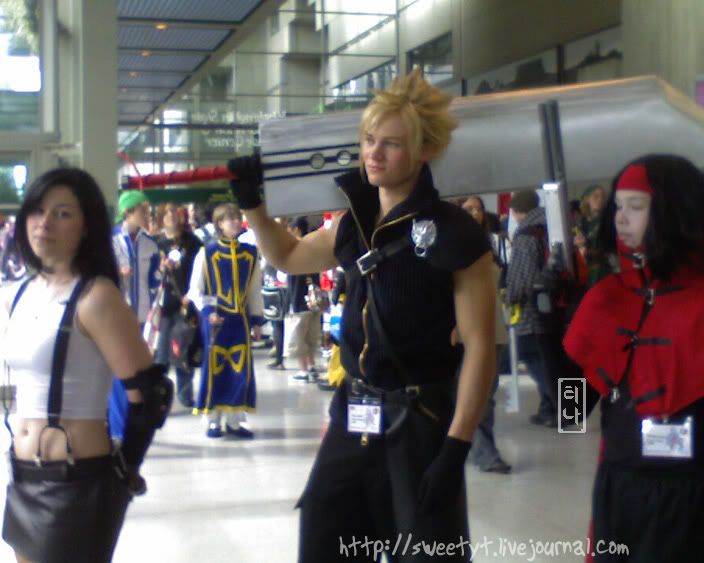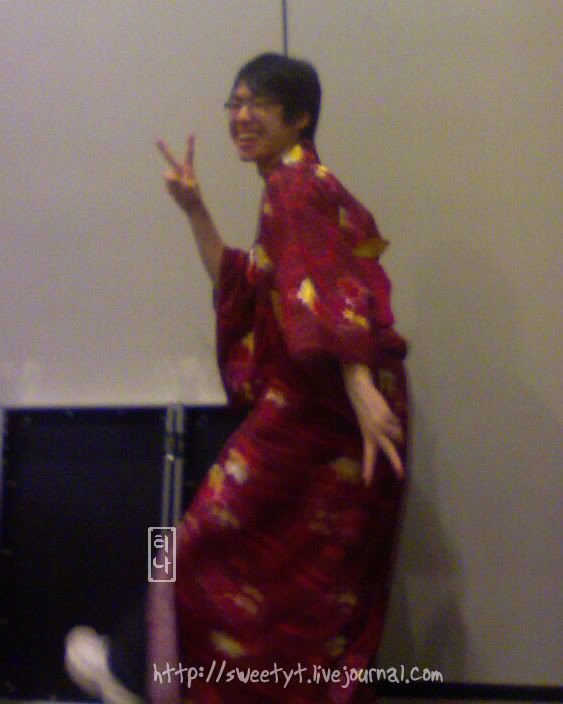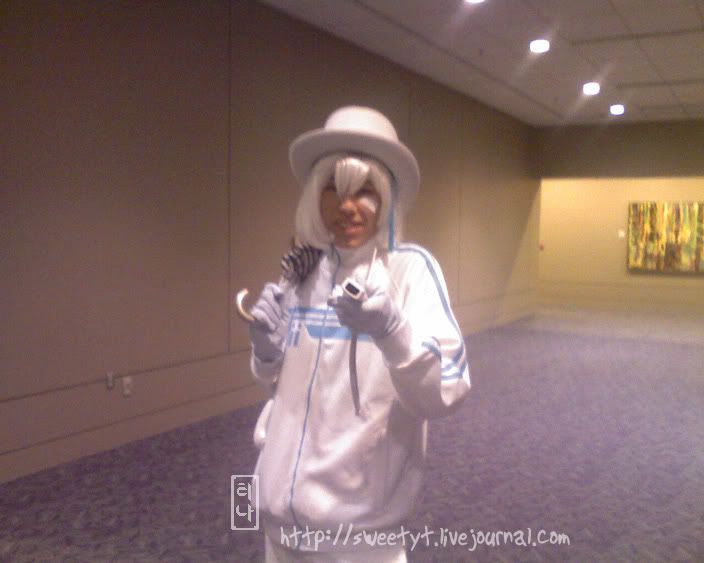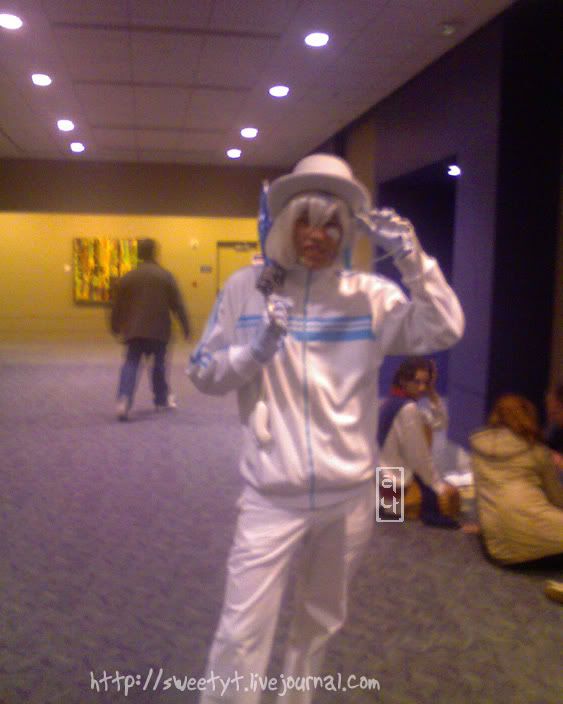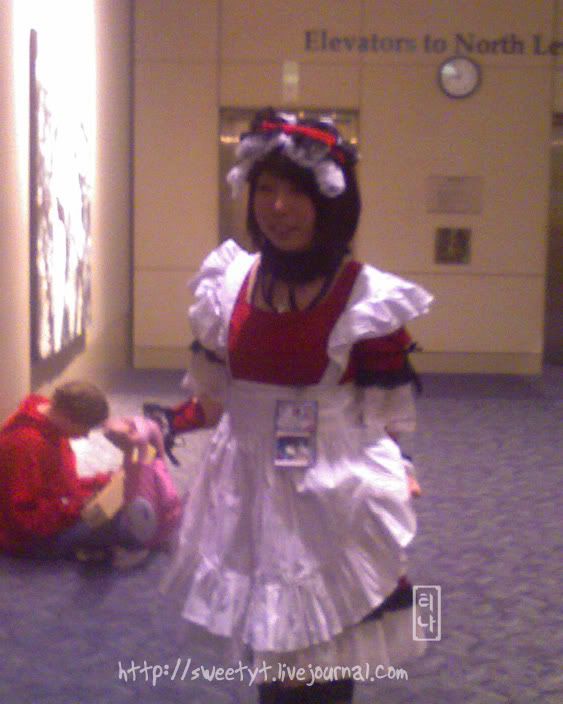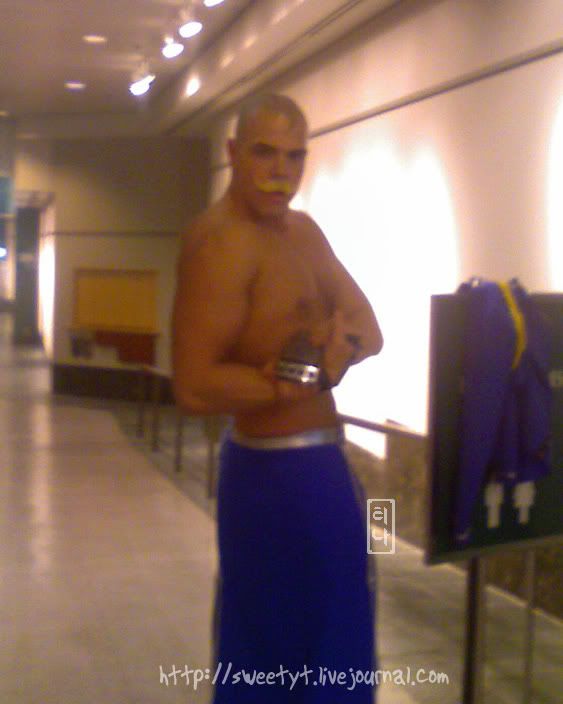 It's almost 4am and haven't slept yet. I'm drained and can't keep my eyes open. Please tell me if there are broken links. I kept checkin my vids and my comp won't show them but its the right links and they do work. Hope you all enjoy~ nighty night

navigation: day one // day two // day three
Yes, like the title says, Roy Mustang was the king of karaoke today (03/29) and I tried to record every bit of it!
Current Mood:

drained




So yesterday (Friday. March 28) I went to my first day of Sakura con and after a lot of miscommunication and running back and forth, I found out I did have to pay the whole amount even though I'm just gonna be a volunteer, and since I'm broke... I was about to give up and go home, but I ended up calling my sister and told her what happened to me and she told me to give her my account number and she wired me enough for my pass and for food! I LOVE MY SISTERRRRRRR! Then after FINALLY registering, I went to eat then I was assigned to the karaoke room and it was such a blast! I met a LOT of people and got to sing along with them while I do the introduction for them on the mic. There was even one time a person wasn't singing loud enough and kinda mumbled the whole way. So, I started singing along... without knowing how loud I was lol. Turns out people in the audience could hear me singing and they were watching me instead of the person on stage! Whoops! lol. The staff in the karaoke room kept telling me I should go on the stage and sing too and I kept saying no lol. If anyone is going to go to Sakura con tomorrow, check out the karaoke room from 3pm til late, I should be in there at the table! Don't forget to say hi! *loves meeting new people*
I'm probably gonna be on the Sakura staff next year, the leader of the karaoke room asked the manager if she could have me on her full time staff and that she loved working with me, and so did the others from the staff! When I heard that from one of the managers, I was so happy!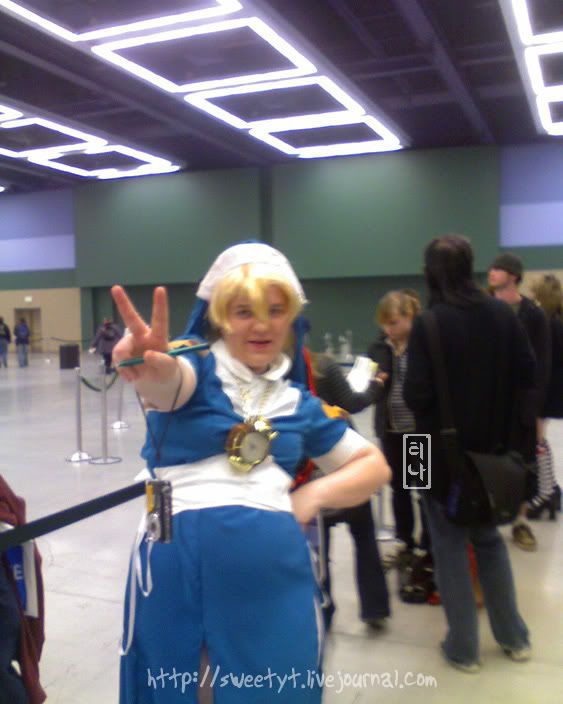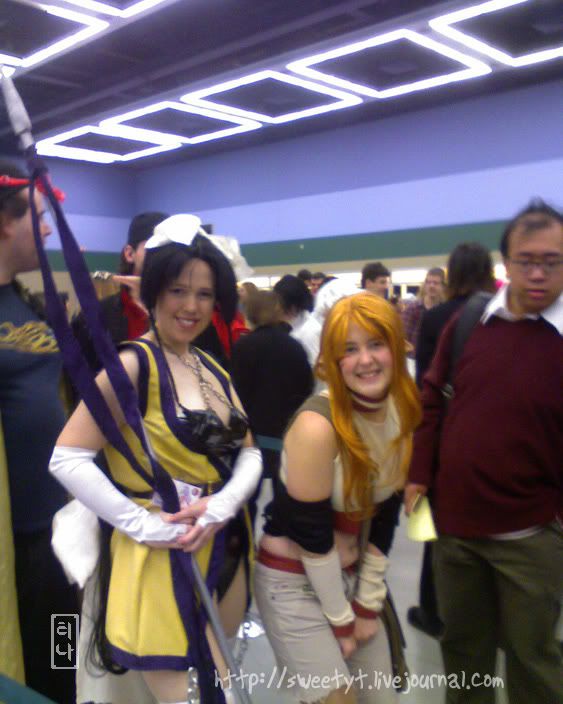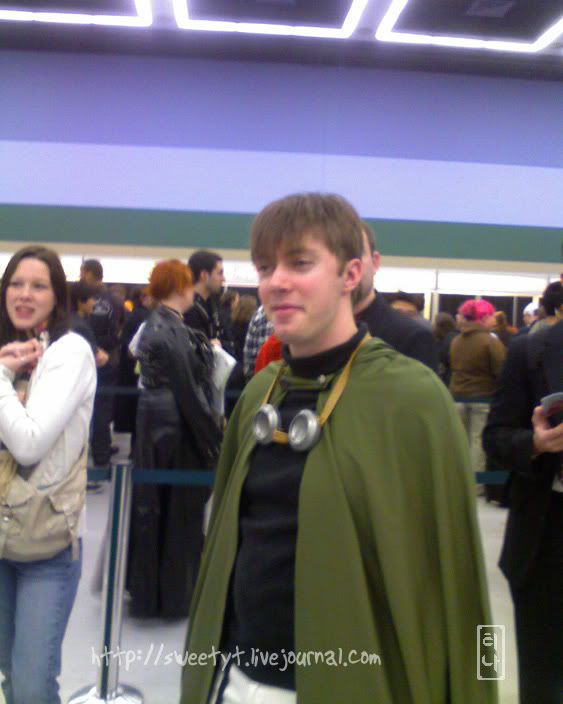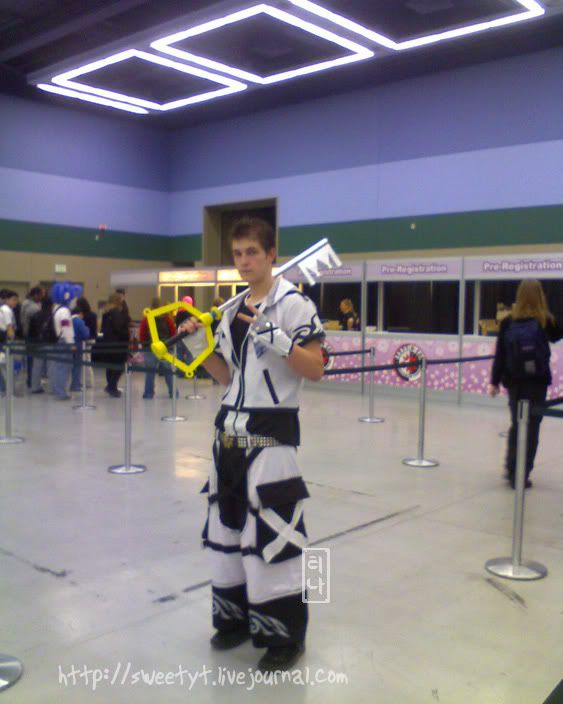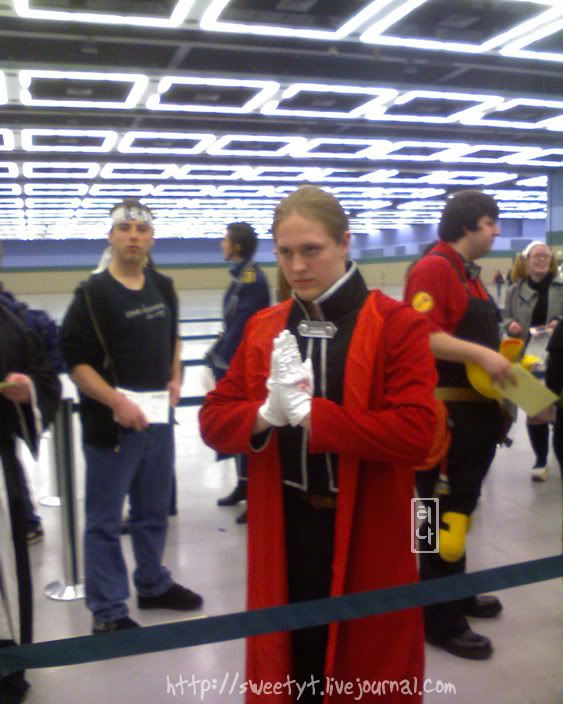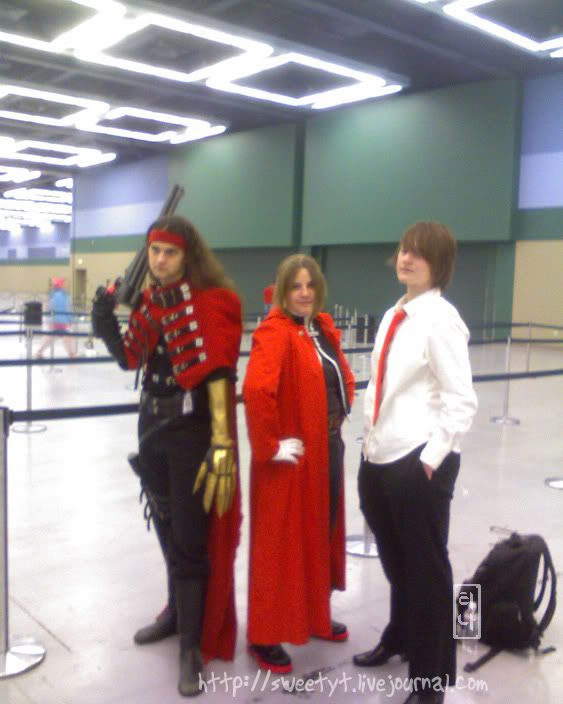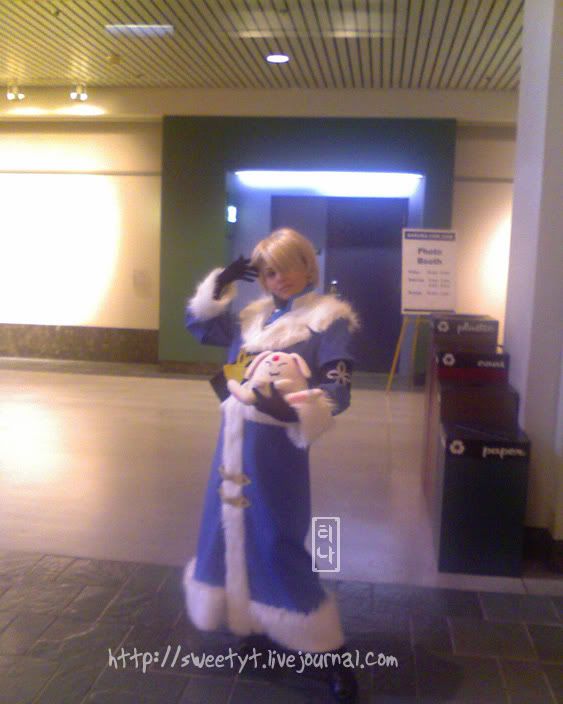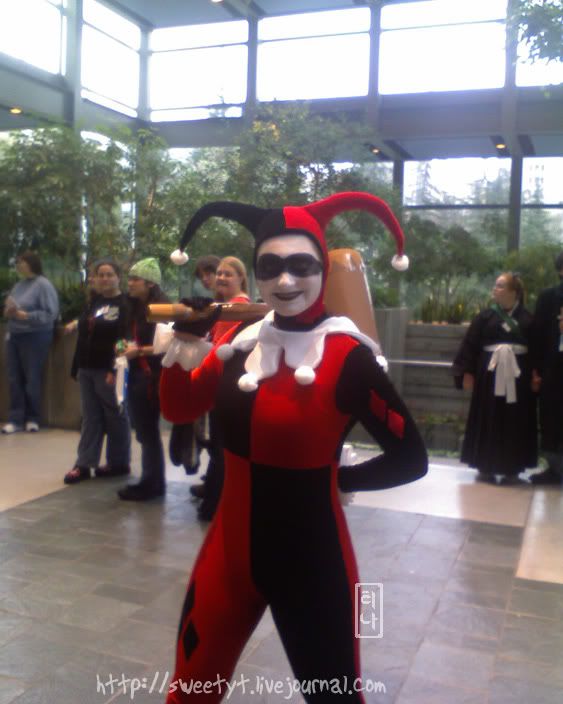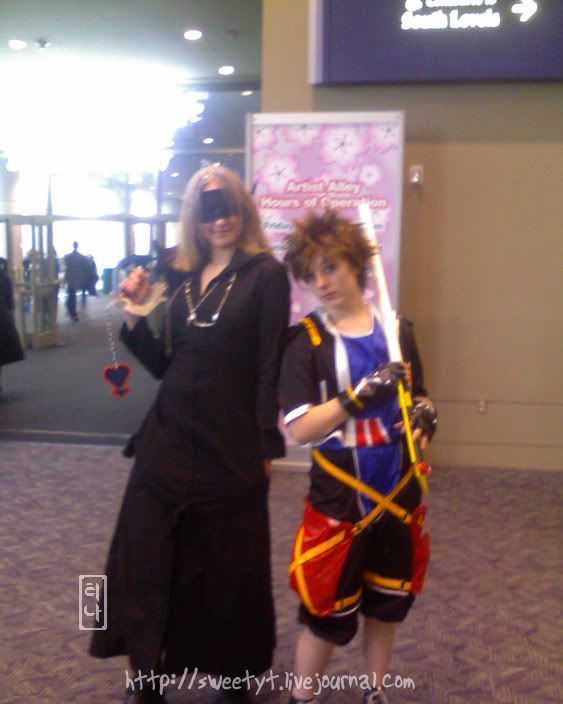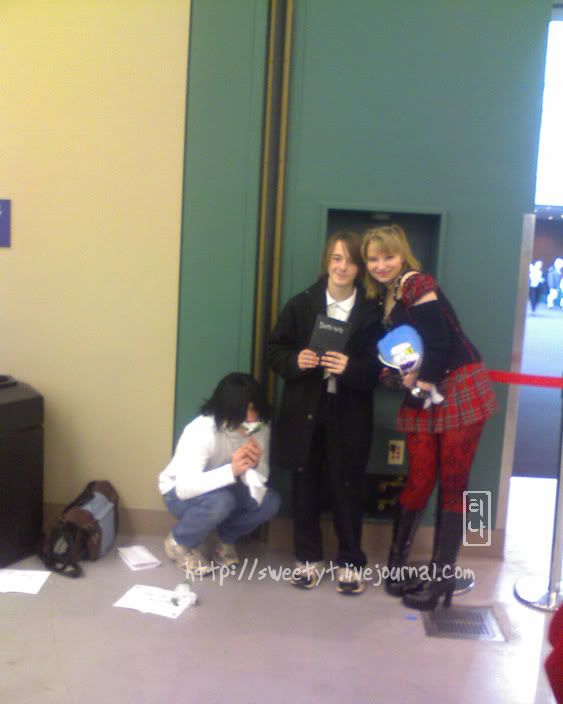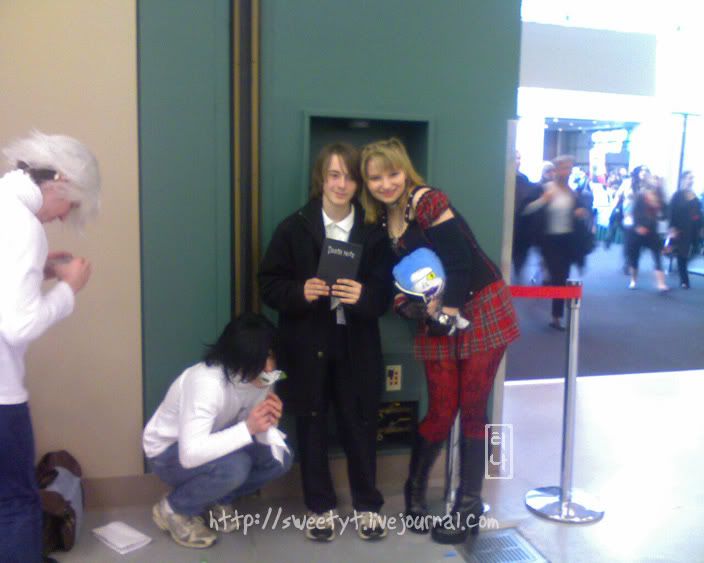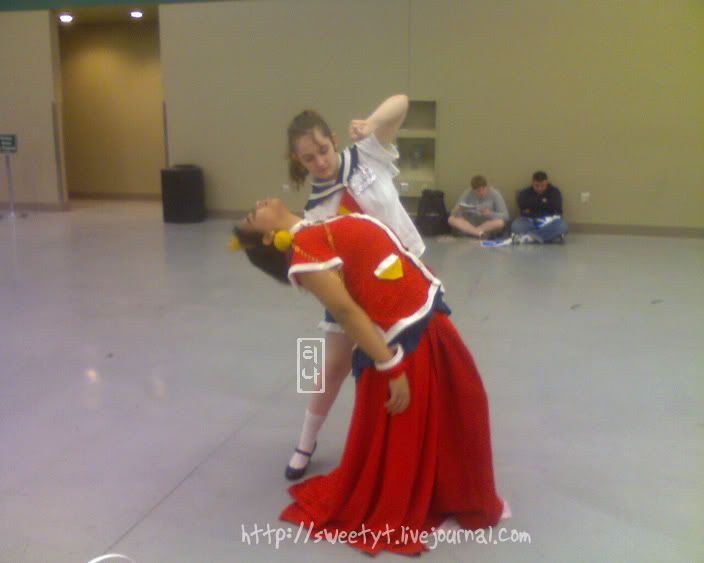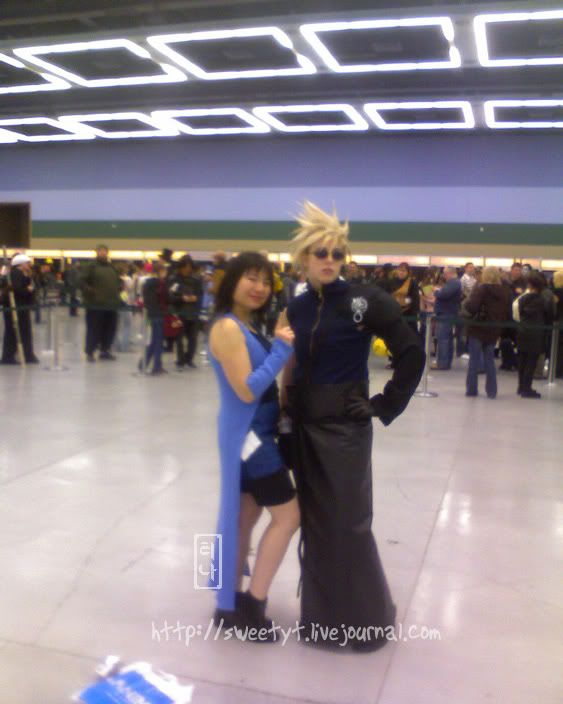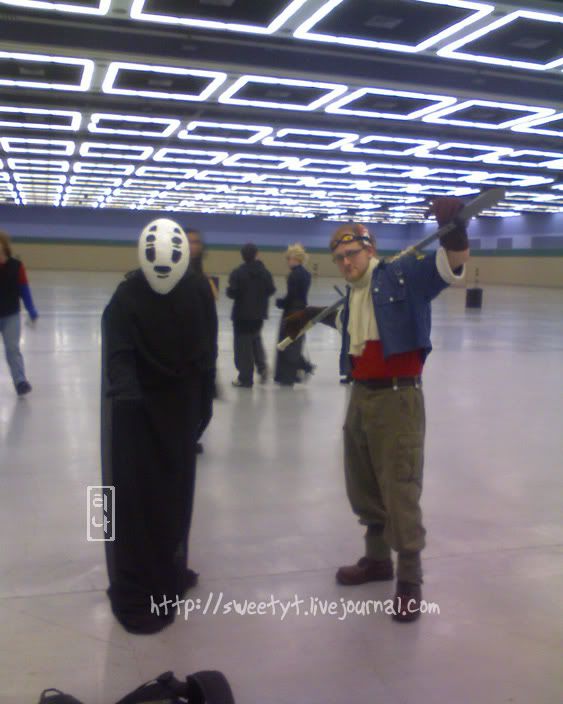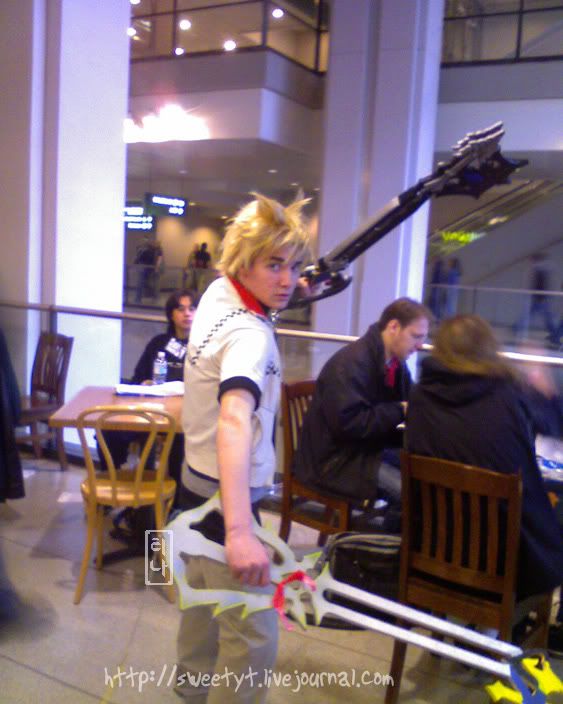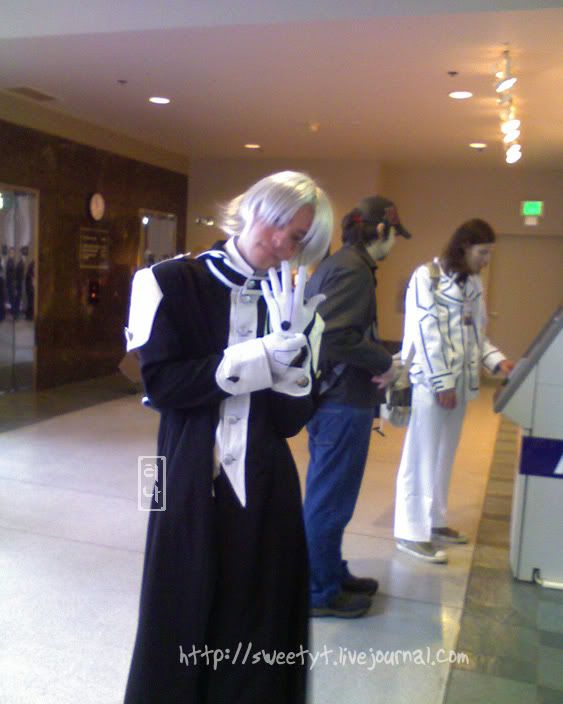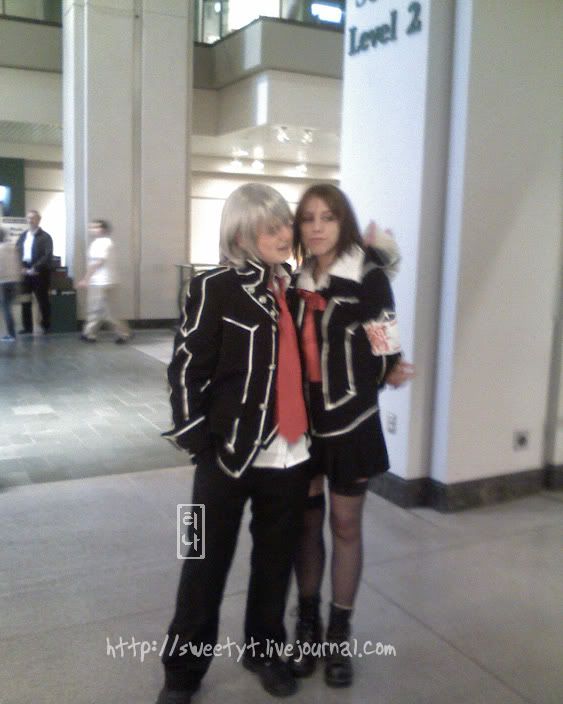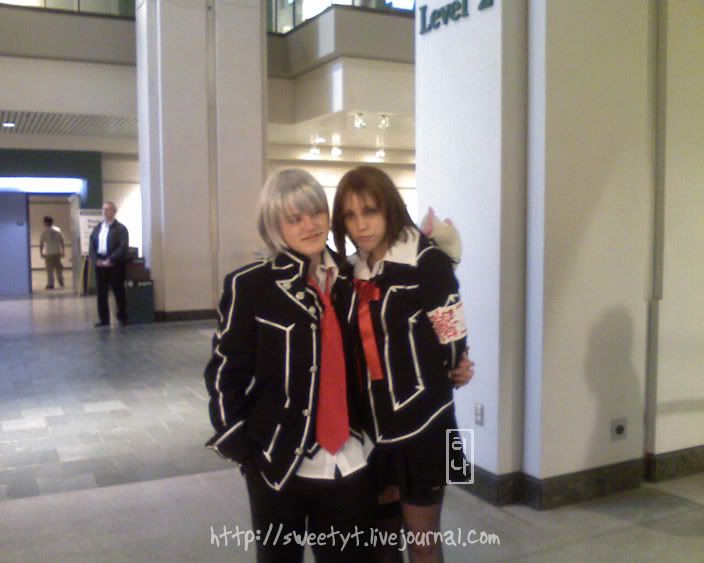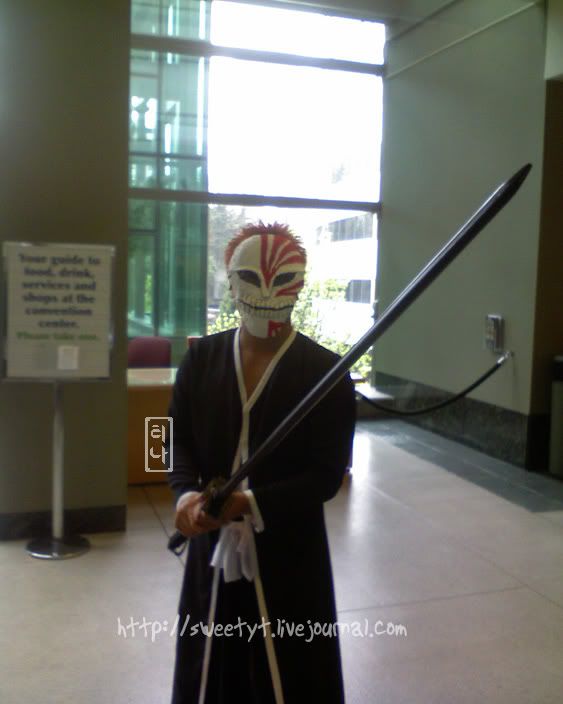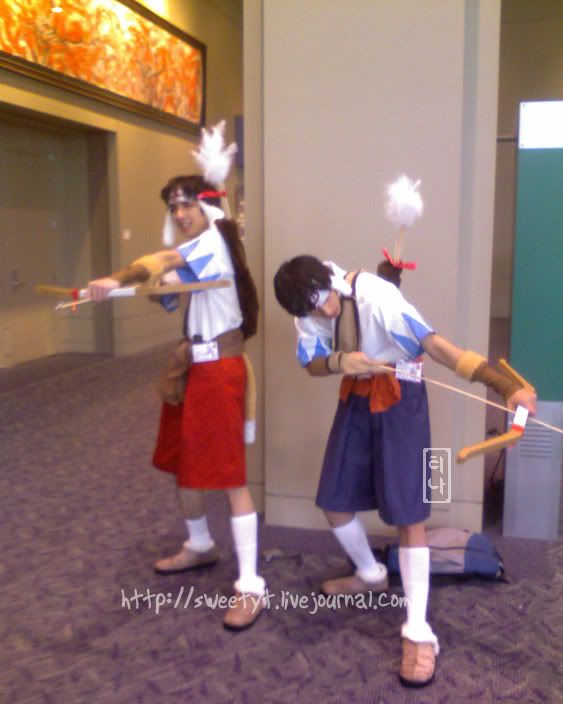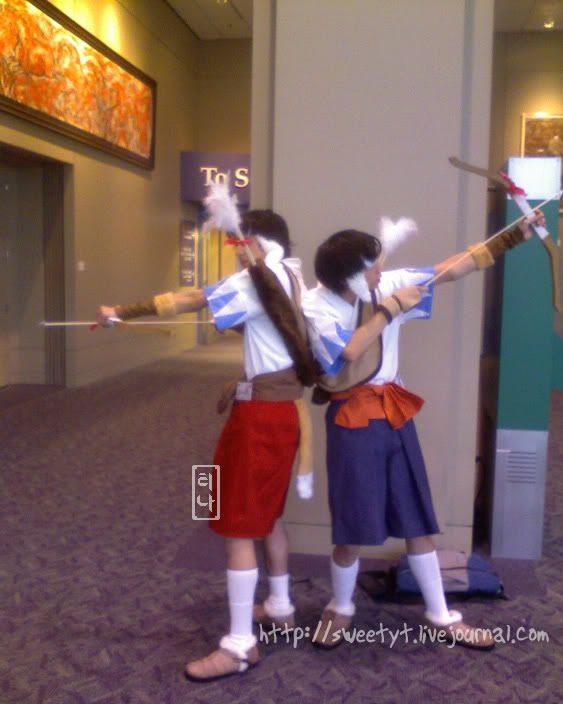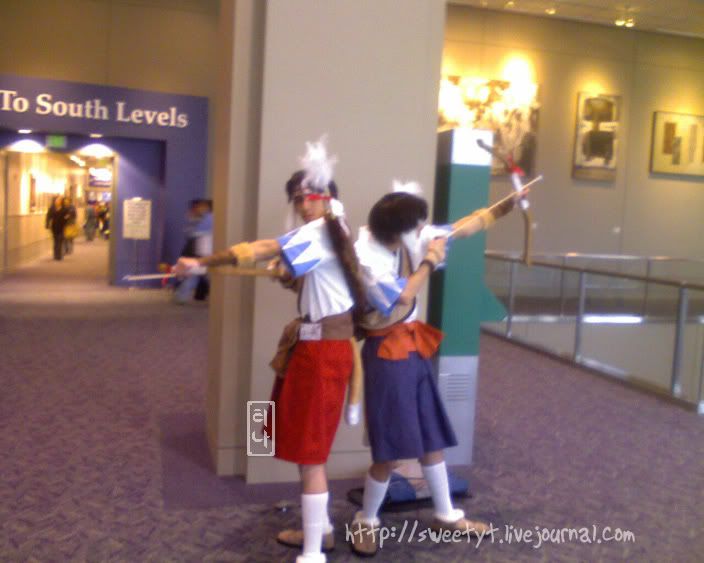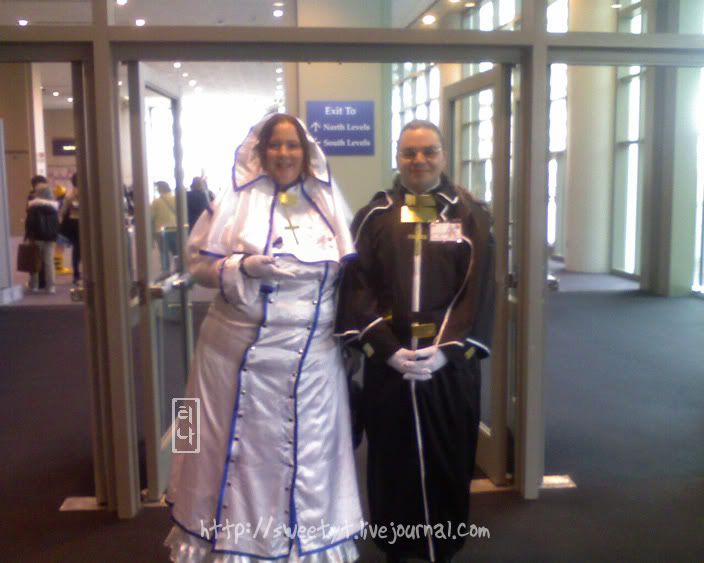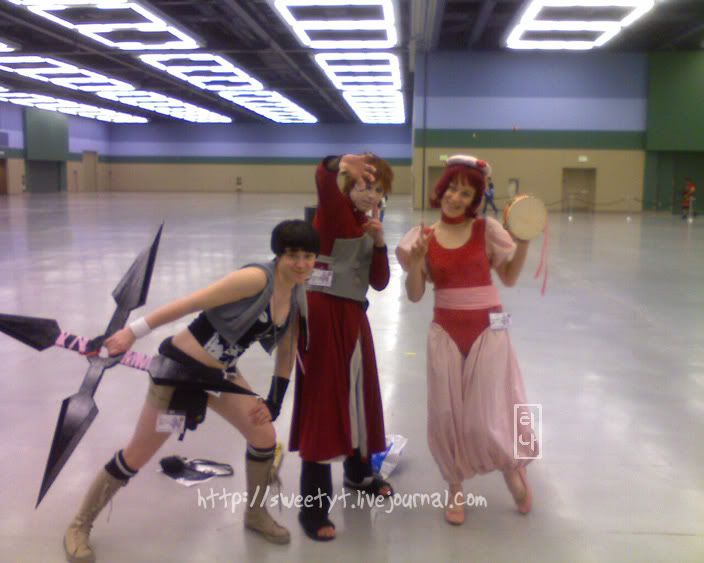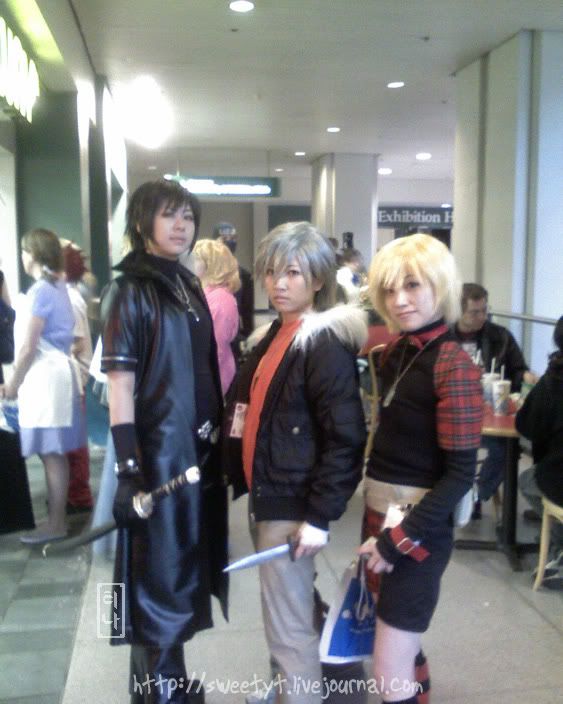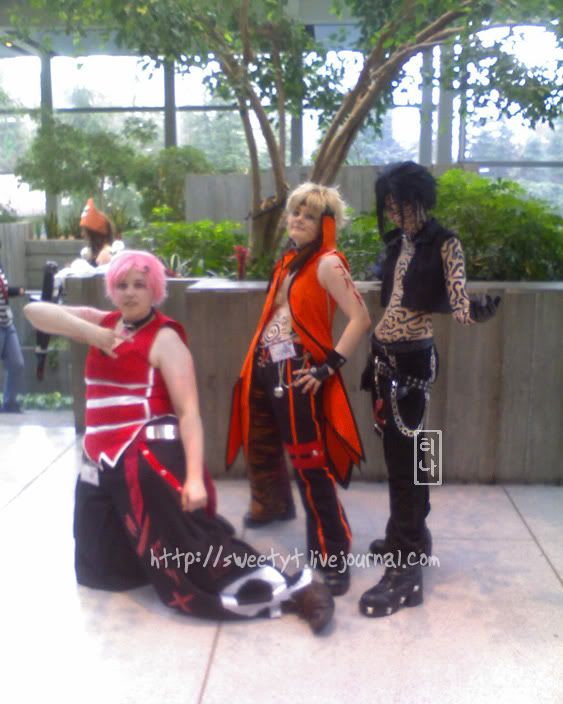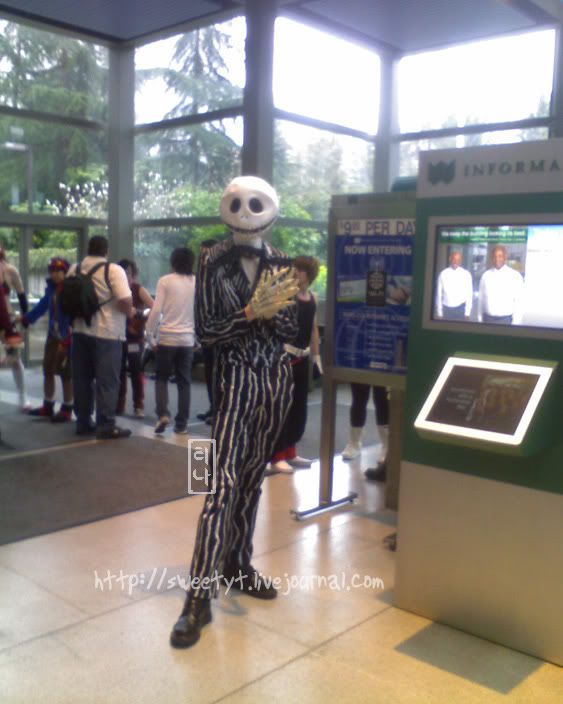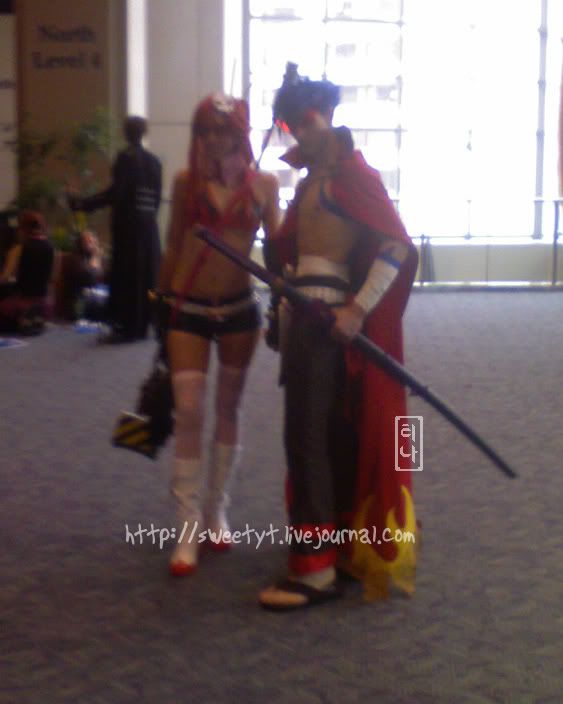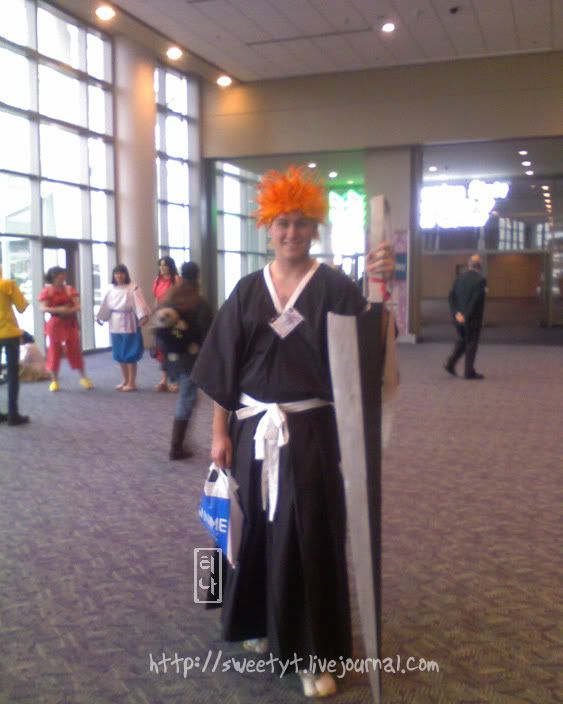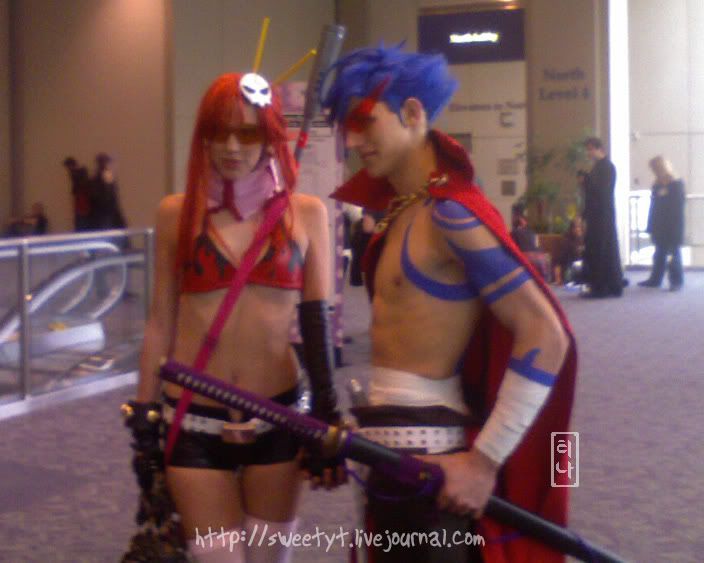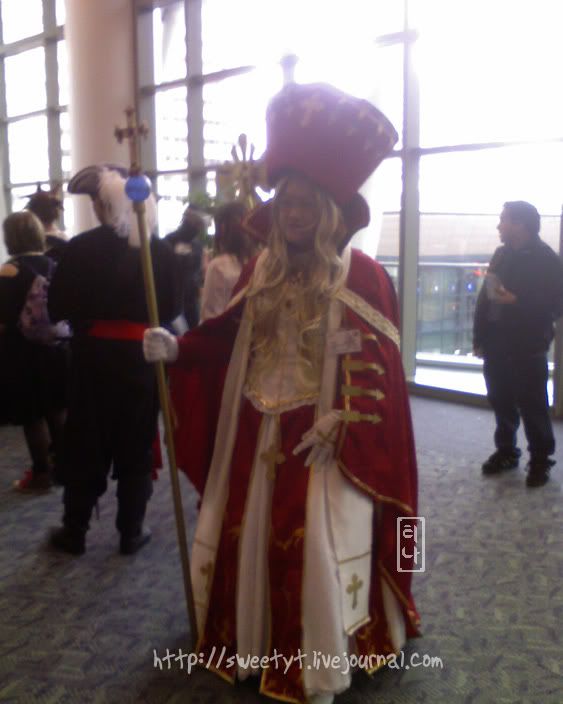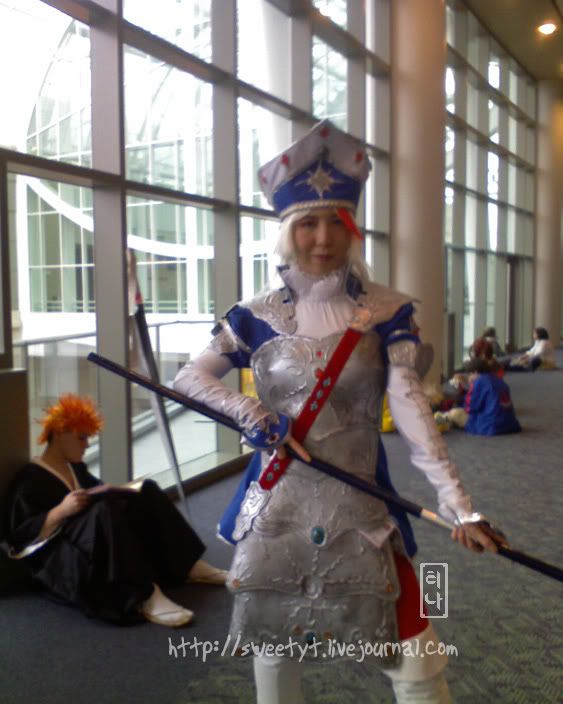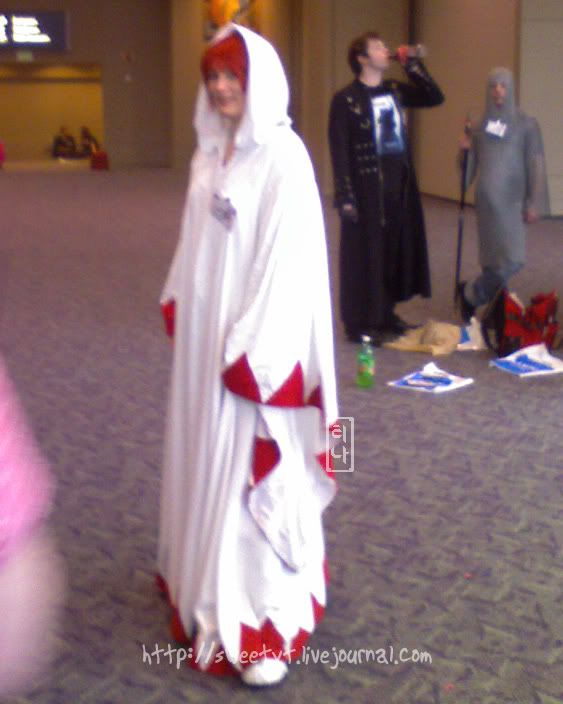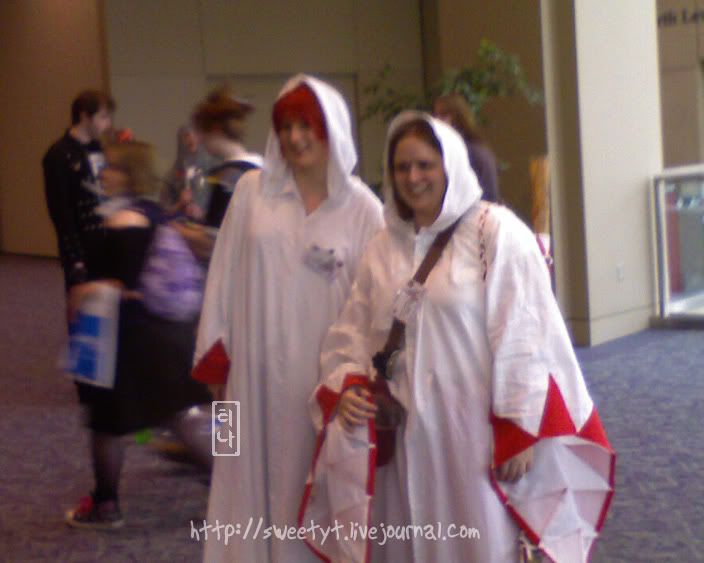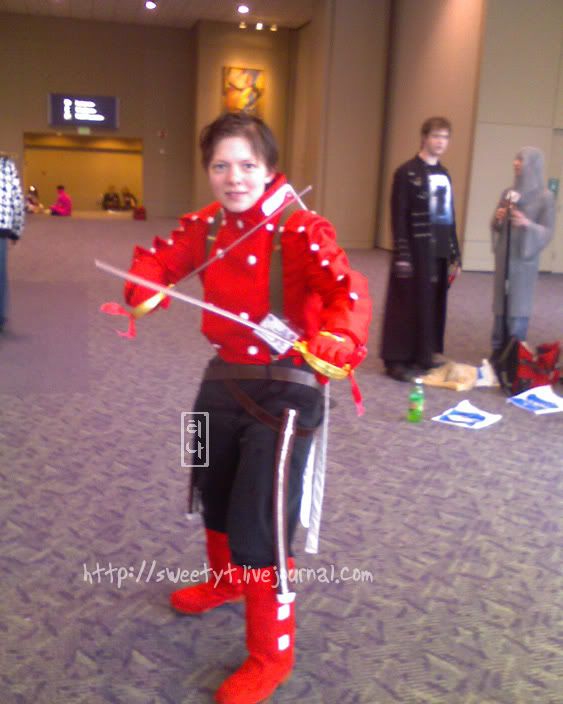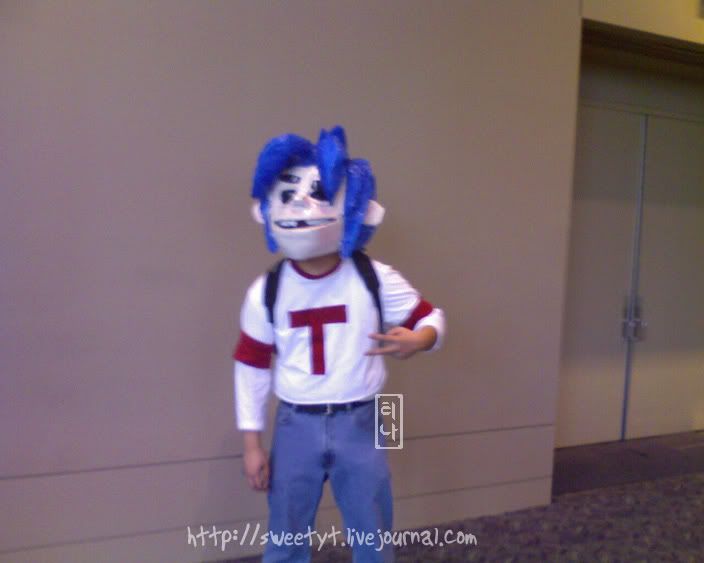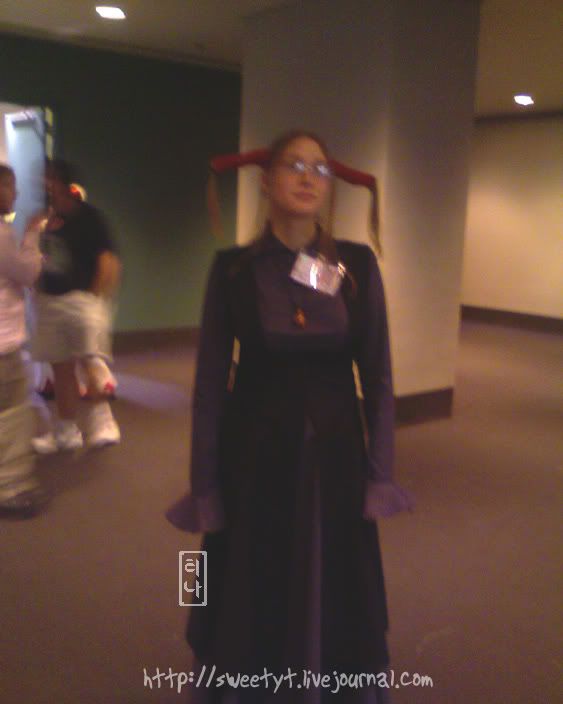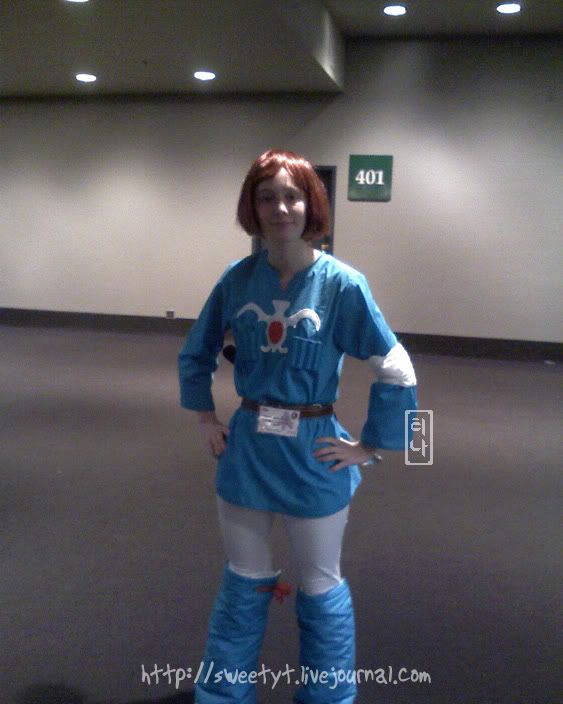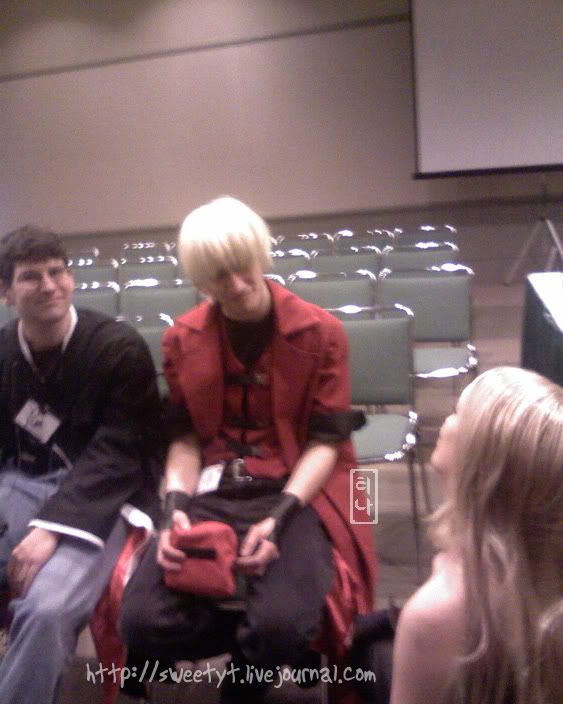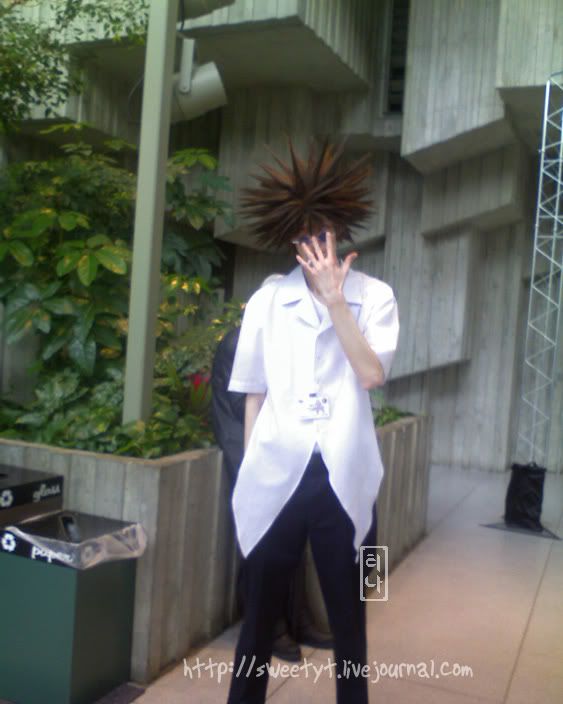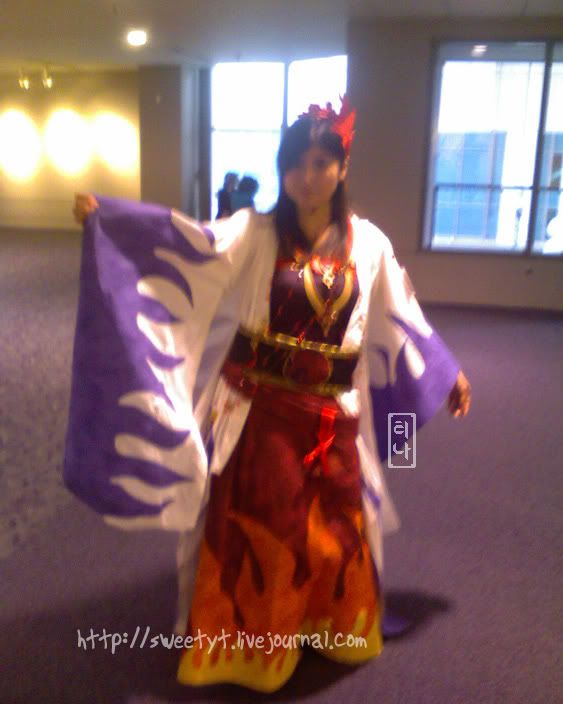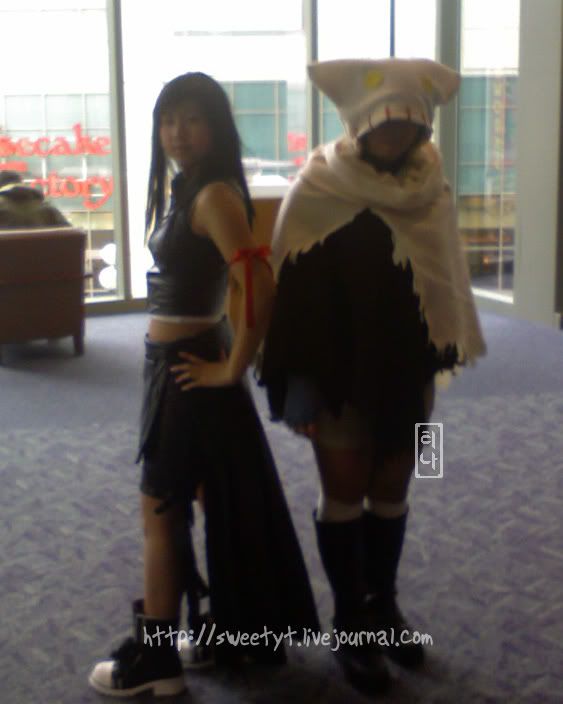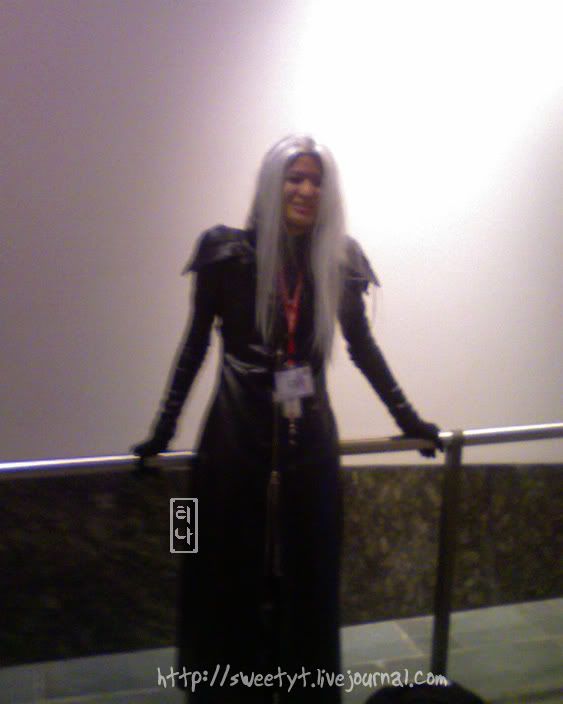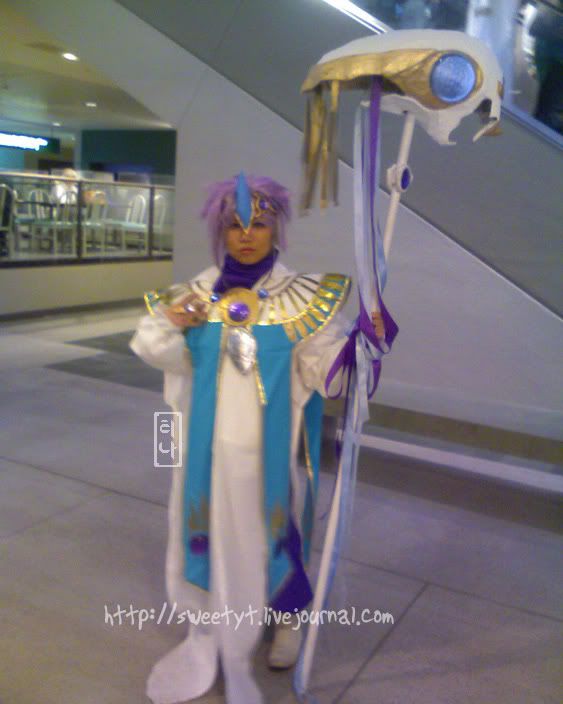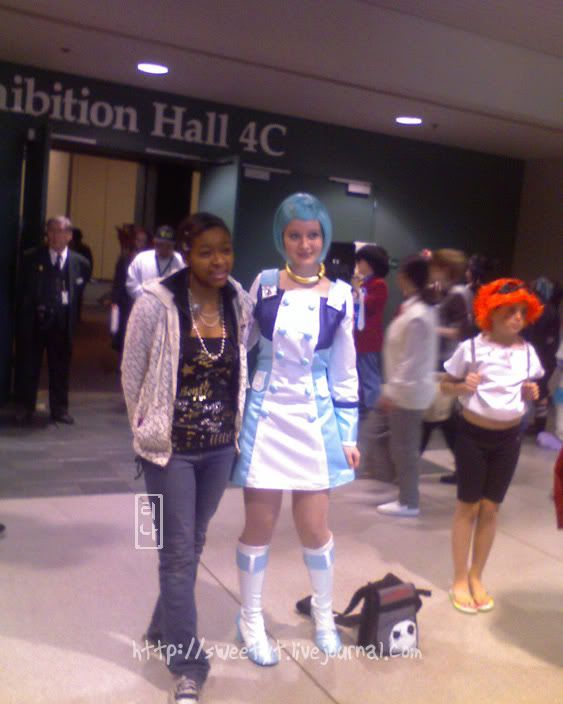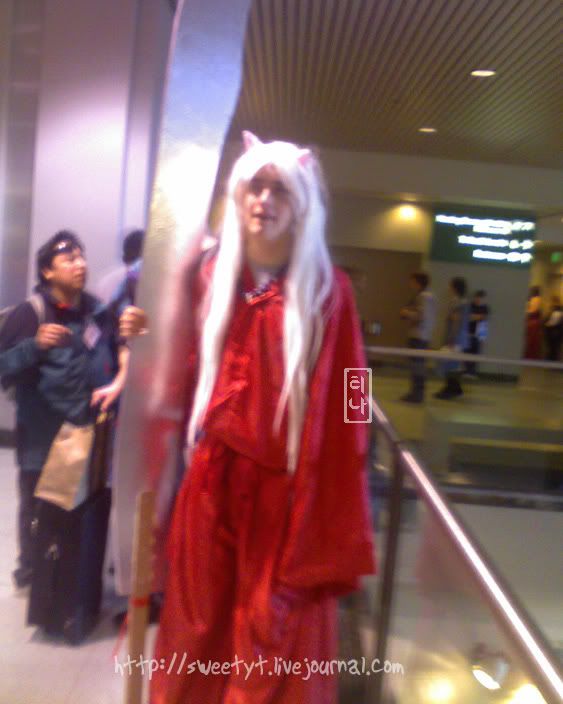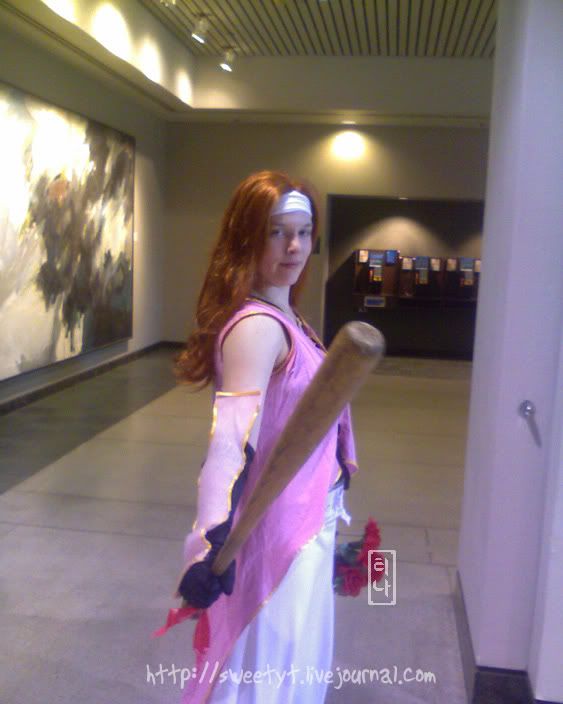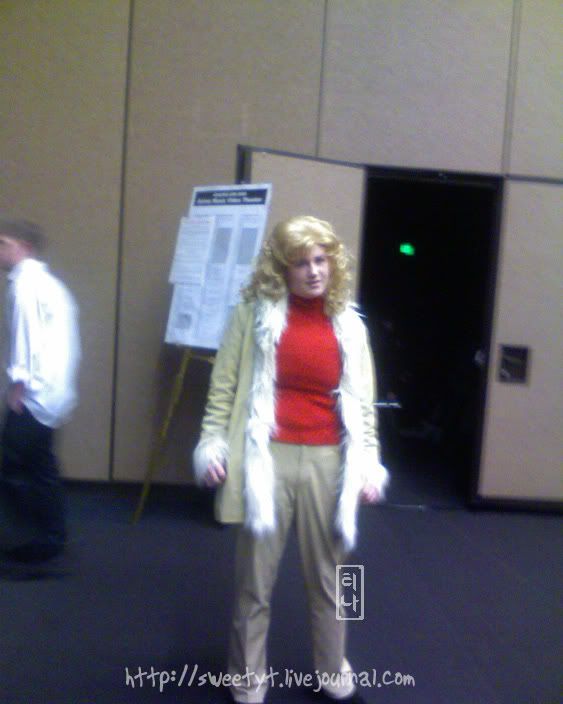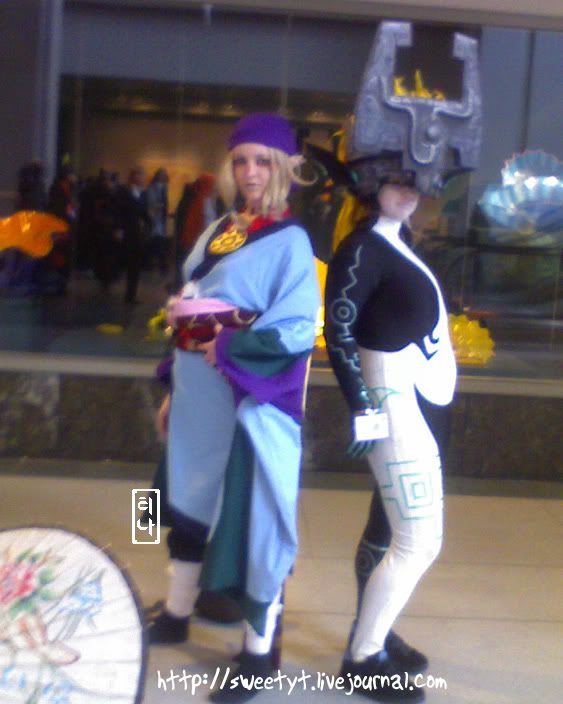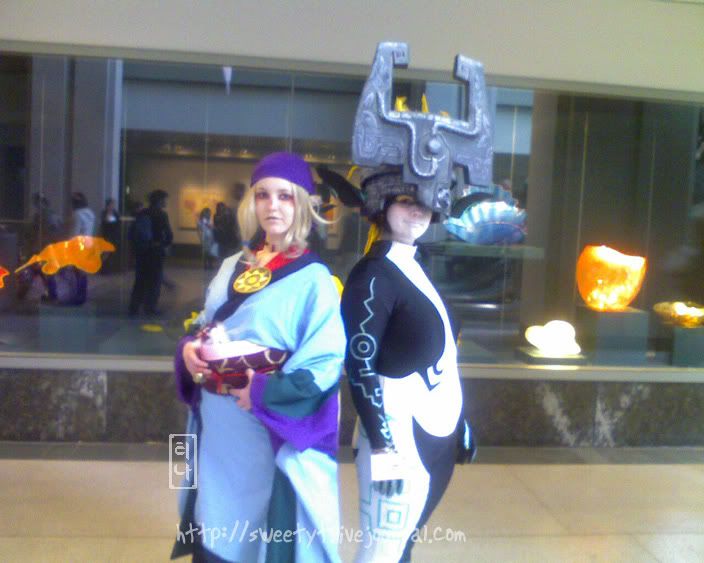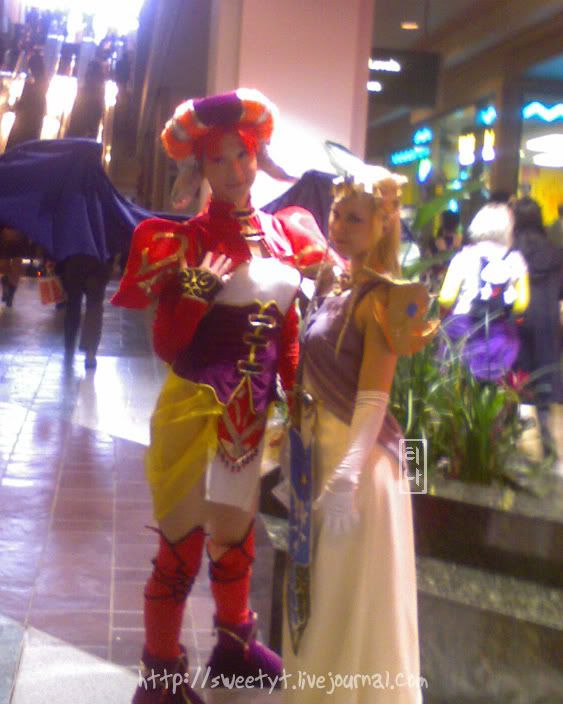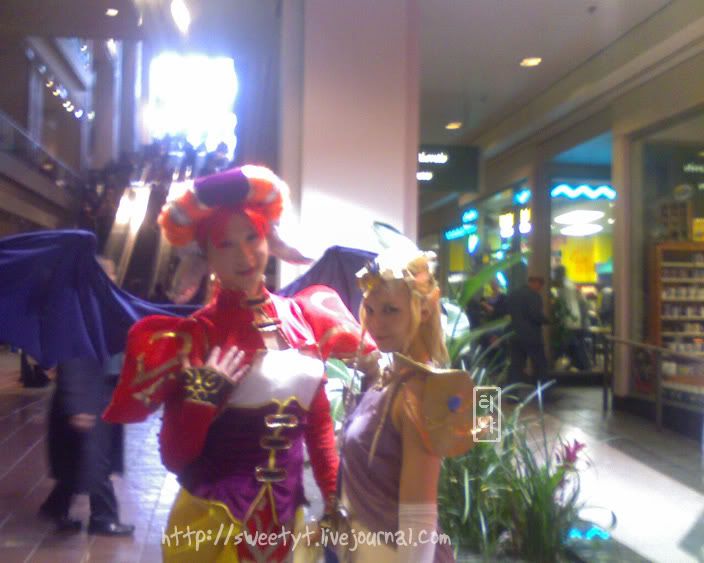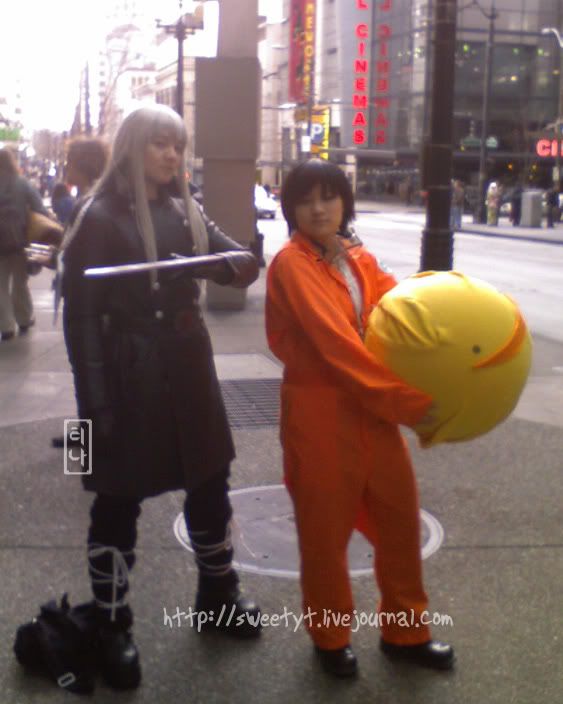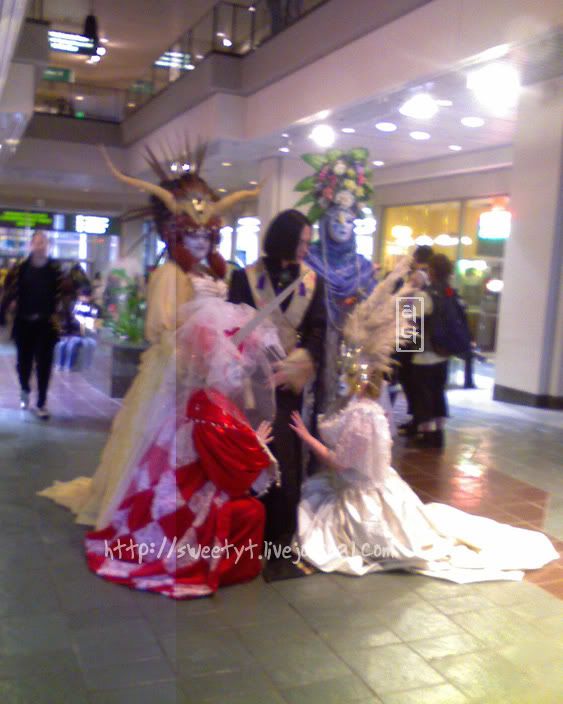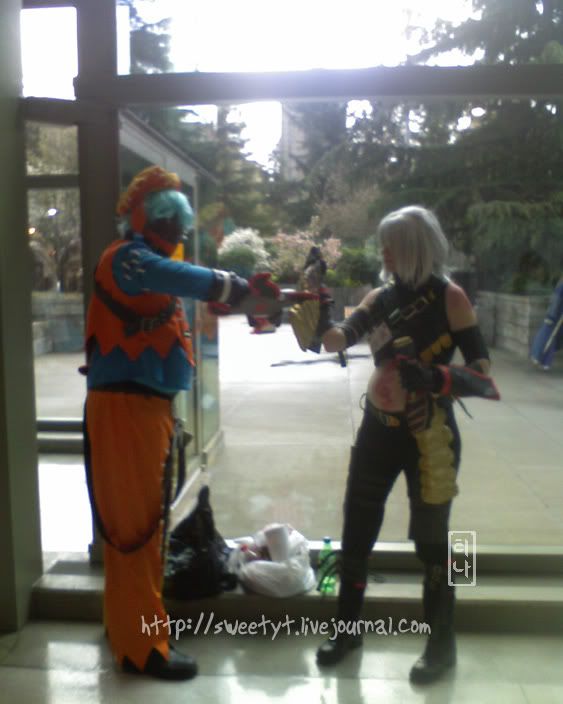 I was bored when i was going up on the escalators so I turned on the camcorder on my cell lol
vid01
//
vid02
A cute lil girl dressed up as Sailor Chibi moon was trying to sing the sailormoon theme and kept getting stuck so i sang with her. she's sooooo cuteeeee!
vid03
I saw two interesting things as I was leaving the con! People dancing, which reminded me of Best dance crew lol. Then I almost got ran over by a mob of bikers when I was about to cross the street lmao!
vid04
//
vid05
WELL THAT ENDS MY FIRST DAY AT SAKURA CON! Hope you liked!! K time for me to go and sleep so I can start off my second day at the con~
navigation: day one // day two // day three
I've noticed that there's countless of times I've left lj and come back... just to leave it again. I noticed it is because I never saw a need for it, since I don't like ranting in journals so often and I always feel like no one cares what's going on with me. I've now decided to make my lj have a purpose, which is to hold my con pictures that I take with my cell, videos I've recorded while at the con, and some rants about what has happened during the con. I hope you all will like my photos I took. Please ask if you want to use them in anyway. Please do not edit them and say they are yours.
Current Location:

my room

Current Mood:

cheerful

Current Music:

Love song



PLEASE HELP ME!!! I really need help with this!
Going to try to take commissions, and I know how it is hard to get a lot of money now a days for almost everyone, so I made all my prices super low! You can pick from sketches, inks, traditional color, cg color, and as a special... you can commission me to design/draw clothes for you and your characters! Please check my prices and examples.
Terms:
-PLEASE DO NOT post in my journal saying 'I wish I could but can't" x.x
-Think about who you want me to draw before you apply for a slot!
-Email or pm me your character(s) detail and refs right after you apply for a slot
-Please send the money right after I put you in a slot. (PAYPAL only please) -Please be patient with me and please do not rush me while you are waiting for your pic.
What I draw: girls, guys, kids, chibis, anthros, portraits, realistic, fanart, robots (humanoid with some robot parts), yaoi/yuri/hentai, etc wont draw: gore, scat, beastiality
Commission Rates: (prices are for 1 character. For more than one, it will be + $3 each)
Sketches – bust = $1 // torso/knee up = $3 // full body = $5
I tend to sketch a lot, and am pretty fast at it, so you can commission up to 5 sketches at a time!
examples: 1 // 2 // 3 // 4 // 5 // 6
Inks – bust = $3 // torso/knee up = $5 // full body = $8
Inking takes me a few days on full body pictures, but busts and half bodies will take a day.
examples: 1 // 2 // 3 // 4 // 5 // 6
Color (Traditional) - bust = $4 // torso/ knee up = $6 // full body = $10
Colored with color pencils, usually done with none or plain backgrounds.
examples: 1 // 2 // 3 // 4 // 5 // 6
Color (CG) – bust = $6 // torso/knee up = $8 // full body = $12
Cg takes me the longest because I like to take my time on coloring the characters and the backgrounds, to make sure everything is perfect~
examples: 1 // 2 // 3 // 4 // 5 // 6
SPECIAL!
I noticed a lot of people liked my clothes designs so I thought I would offer them as commissions as well
shirt design, front and back - $4 [preview]
pants/tights/skirts, front and back - $5 [preview]
dress design, front and back - $8 [preview]
full outfit (shirt, pants, jacket, shoes) - $10 [preview]

Everything is done on computer paper. For Cg's I sketch and ink on paper, then scan and color in OC. If you are interested in getting the original sent to you in snail mail, then please ask~ it'll be additional $3 for shipping.
All payments are through Paypal only! Thank you!
REMEMBER!! Please know exactly who you want me to draw and please provide all of the refs and colors and everything about the character(s) in a email RIGHT after you apply for a slot! email and
paypal both are: lonelytenki@gmail.com
SLOTS:
01) HKigeki torso/knee up couple = paid // not yet started
02)
03)
04)
05)
06)
07)
08)
09)
10)
Current Location:

home

Current Mood:

determined



[link]
: Eye Tutorial
[link]
: Cell-Shading Tutorial (mainly tricks of the trade)
Tell me whatcha think, on here or on da lol.
*sighs with relief* I really wanted to do tons of things before my summer vacation was over, but I kept on holding it off. *twitches* evil procrastination. Anyways, today I needed something to keep me awake (since I am running off of only 5 hours of sleep today x.x) I thought, 'hey why not finally make some of the tutorials I've been wanting to make' And since people on da kept on asking me how I colored, I made them and posted them up. If you wanna see them, here's the links:
Current Mood:

accomplished




Tell me what you think. lol


Don't judge me
With your piercing glares
Trying to spot my every flaw
Fuck that
Don't picture me in dresses
With curls in my brownish hair
Fuck that
Don't tell me I should have makeup like a doll
With powder and colored nails
Fuck that
Don't think I should blend in with the crowd
Chat with the clique and laugh with the masses
Fuck that
Let me be an individual
With my own style and own tales
So don't disregard me for my distinctiveness
Can't judge a book just by looking at its cover
Won't know until you try
But if you try to like me
And yet you pretend I am something I am not
Fuck that
I'm gone
Here is a poem I thought up when I was on the bus today.






My Friend
You're sweet and kind
Loving and true
When I look back
On the things we did
On the things we do
Together forever I find
The laughter the tears
The heartbreak the fears
And all I'd like to say
Is Thank god I have
You for a friend.

--------------

Fly
Fly away and be free
Thy wings, please carry me
To the sky of love
Don't go too far
Don't go too slow
But go where my love is content.

---------------

Guiding Light
I'll fly to you
With open arms
I'll protect you
From all harm
So wait for me
Your guiding light

----------------

Light the dawn - lyrics

Chorus:
Left out
Alone
Down and desperate
Waiting for my time to shine
Put down
Distraught
Light the dawn of my life

Bright and cheery your world is
No small crack to let in
Joyous and ignoring all else
Close-minded your thoughts
When will you learn

Chorus:
Left out
Alone
Down and desperate
Waiting for my time to shine
Put down
Distraught
Light the dawn of my life

Yeah I've done this
Then done that
Are you going to disregard me
No one's perfect
Does that not count you or me

Chorus 2:
Light the dawn on my life
Don't put me down
You don't need to love me
I don't need your sympathy
Just let me be
Let me light the dawn on my life
Light the dawn on my life
You all feel joy in what you do
Why not let me do the same


Please do not try to steal any of these writings from me. I am just saving these up here so I won't lose them.
I am uploading some of my writings to here just so I won't lose them because I have lost more of my writings than I can stand. I even lost some poems I wrote that I actually really liked. But anyways, here is the ones I found and saved.
Current Mood:

complacent




I still hate my hair, but atleast I didn't pull it all out like I said I would. And I finally got back into the artsy mood. It sucks when my art insperation runs dry when my mood is down. I wish I was the type of artist that draws best when stressing or being down, because then I'd draw NON STOP! *sighs*
My thumb drive broke right when my old comp was finally plugged in and ready to use, so I now can't scan on my old comp and save the files onto my thumb drive to put it on my new comp. So I will have to wait until I get a new scanner or a new thumb drive, or replace the one I have now. I emailed the seller of the defective thumb drive and he said I will have to send the thumb drive back to him with a copy of his email and then they are going to inspect it and if they see that it is broken, they will send me a replacement, and if they see that it isn't broken, they will send it back to me on my expense. how rude is that?! Well they better see that it is broken BECAUSE IT IS! I still owe Sarah a emo pic of her, and Usagi a pic of him... gah I really need to get my butt in gear.
Anyways first class of the day I work in is over, time to head back to the office. I'll rant somemore later. PEACE~!
Haha I'm free from the evil that is pms! (yes I am a very blunt person lol)




I sprained my arm, and it has been hurting for a week now.
My boss forgot to approve my hours on time, so I'm wondering if I will get my paycheck on time or not.
I failed a test and on monday I will have to go back and take it AGAIN.
I thought that if I got my hair cut that it would make me feel better, but it turns out that it made me feel WORSE! I want to pull my hair out and say screw it. x.x I asked for it to be to my chin but what does she do, SHE CUTS IT SO FREAKEN SHORT. I can't even put the top part of my hair behind my ears. And I wanted it to be curled out and then she freaken blowdries it INWARD and puts styling gel on it so now I can't make it curl OUT! I just want to forever wear a hat and never take it off. It's so bad that it totally brought me to tears. (if you want a clear picture of my hair, think about Sanzo from Saiyuki but picture it a little shorter and that'll be my hair) What I really wanted was hair like Elie or Haru from Groove Adventure Rave or like how I had it the last time I cut it, it was just like the new sunflower hairstyle you see on gaiaonline.com. And what sucks even more, is that I WASTED MY OWN money on this crappy hairdo. I was so mad that I didn't even give her a tip or even a thank you, I just paid up and went.

And to top it all off, I got the Saiyuki Movie in the mail yesterday, but then I just got a email today saying that they are JUST NOW SENDING IT to me. They better not be double paying me for it.
And sad to say church life at Joong Ang sucks. I just get so nauseated everytime I have to stay there longer than I have to. I don't know, it is probably because of the fact that EVERYONE that goes there has known eachother all their lives and their so closeminded and rude to get out of their darn cliques and actually try to hang out with other people. Like come on! I have been there for 4 (VERY LONG) years and did I ever get accepted into any one of those cliques? NO! Because I am not a thing like them, so they don't even want to bother to even look at me let alone talk to me. Yeah, some of them do the occational wave hi to me or the quick 'oh hi tina, how are you' but they run off before you can even ANSWER.

I've been losing weight lately, and everyone won't leave me alone about it. My mom thinks I am starving myself, just because I don't eat at home after I get back from work, PROBABLY BECAUSE I EAT AT WORK BEFORE I HEAD HOME! It's not like I can hold my stumach for the 6 hours I am at work everyday just so that I could come home starving and eat infront of her just to show her that I am eating. Dude, I eat! I just don't eat more than I have to.

And what really pisses me off, is my darn computer and my scanner. My scanner is so old that XP can't even read it, and here I am REALLY wanting to get back into the drawing mode, but I can't even scan them into the comp. And I can't even surf the web without this evil popup blocker that keeps on screwing up explorer and making a evil warning thing pop up that ends up closing ALL OF MY EXPLORER windows that were open.

GAH WHY DOES EVERYTHING HAVE TO GO SO WRONG ALL AT ONCE?
I need someone to talk to. This week is just not my week.
Current Mood:

disappointed




I missed a step and tripped while twisting my left ankle and now I'm in so much pain and I can't walk for the life of me
I'm stuck at work doing absolutely nothing while there's a big test in a few days that i have not studied for yet so it's haunting me like mad.
I don't know what to do on the Friday before Halloween... my boss asked me to wear a costume on that day since she is going to x.x
It's raining non stop this week and I'm cold and wet

So yeah, life sucks, I'm in pain. What a grand life this is
I got my friend mad at me because of my big mouth.
Current Mood:

irritated